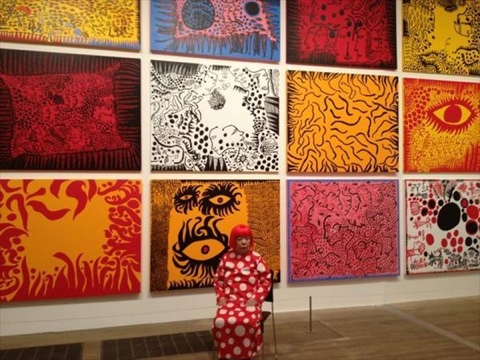 This article titled "Yayoi Kusama arrives at Tate Modern with a polka at Damien Hirst" was written by Mark Brown, arts correspondent, for The Guardian on Tuesday 7th February 2012 18.12 UTC
Aged 82 and after more than 60 years as one of the world's "most interesting, arresting and intriguing" artists, Yayoi Kusama may finally be about to break into the wider public consciousness with the first big retrospective of her work in the west.
Kusama left her native Japan – and the mental health hospital where she resides – for the first time in 12 years, arriving in London on Tuesday for an exhibition of her work at Tate Modern which takes in her entire career as a painter, sculptor, film-maker, novelist and more. It includes work featuring her signature dots, her liberal use of phalluses, her naked interventions and a spectacular new mirrored room installation conceived specially for the show.
The artist – red wig, vibrant lipstick, polka-dot dress – has proved a tricky interviewee in the past. She curtailed one interview with the New York Times after just one question ("Why do you smile so seldom?"). On Tuesday she was more than happy to answer questions about her art, her mental health and her attitudes to men.
On the latter, Kusama, speaking through a translator, admitted: "I don't have many positive feelings about men. I haven't had sex with a man for decades. My father was the type who would play around and womanise a lot and I saw this all the time through my wretched childhood. That probably affected me a lot."
Is she afraid of men, Kusama was asked. "Yes," came the reply.
Or perhaps that should be straight men, as Kusama also fondly recalled her years in New York, when many of her friends were gay men she employed as assistants and helpers. She also staged a gay wedding as a "summer happening" and later wrote a gay-themed novel, The Hustler's Grotto of Christopher Street.
Kusama's work cannot be disentangled from the mental health problems she has experienced. She admitted herself to a psychiatric hospital when she returned to Tokyo from the US in the early 1970s and from 1977 has lived voluntarily on an open ward, building a studio across the street and commuting back and forth on a daily basis.
Kusama said she had been able to channel her illness into her art. "The doctors have said that it is because I have been able to channel it in this way, it has kept it in check and that is also precisely what many people love about my art."
She has been using dots in her art since before Damien Hirst was born. Asked how she felt about Hirst and his spot paintings, Kusama said she had been using polka dots since she was a child: "I have made it into a symbol of love and peace."
She added: "I love Damien Hirst, I respect his work a great deal and I am very happy that the polka dots that I started using [as a young girl] have become a symbol of love and peace around the world with everyone joining hands to use them together in this way."
Having said that, Kusama also made what could be seen as a dig at Hirst. "People ask about art and commercialism," she said. "I think that if someone tries to sell their work at a high price that is the wrong way of doing it. You should create a work that is so valuable it might eventually sell at a high price but you've got to concentrate on how you create that artwork."
She added: "I have done all the work myself, not assistants. That's why I'm in a wheelchair, I've been doing it physically – it's hard labour – throughout my life."
The Tate Modern show's curator, Frances Morris, said Kusama was "one of the most interesting, arresting and intriguing artists alive today," and should be better-known.
At the forefront of zeitgeist moments in the last 50 years of art history, "Kusama has been ahead of the game almost continuously in different ways", Morris said. But one reason she's not a superstar in the west is that she "never hung around at those moments, she doesn't embed herself as the key player. She never stayed in one place long enough for that accrual of status and connectivity."
That may all change as a result of the Tate Modern show, just as the standing of Louise Bourgeois only rose late in her life. After London the show travels to the Reina Sofía in Madrid and the Whitney in New York.
Yayoi Kusama is at Tate Modern from 9 February to 5 June.
• This article was amended on 13 February 2012. The original said the Kusama show will travel to the Pompidou in Paris after London, when in fact the show has already been at the Pompidou. This has been corrected.
guardian.co.uk © Guardian News & Media Limited 2010
Published via the Guardian News Feed plugin for WordPress.
Categories
Tags