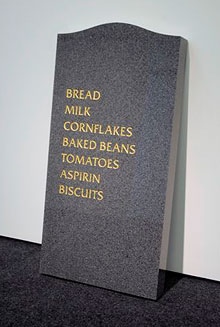 Gravestone 2008
This article titled "David Shrigley: Brain Activity – review" was written by Laura Cumming, for The Observer on Sunday 5th February 2012 00.05 UTC
The show of David Shrigley's cartoons, paintings, hand-drawn films and tragicomic critters now filling the top floor of the Hayward Gallery has been jammed ever since it opened. Shrigley deserves his immense popularity. For almost 20 years he has produced a ceaseless stream of ideas, observations, jokes and strange insights in the form of left-field drawings that have appeared in broadsheet newspapers, books and magazines as well as galleries. Deadpan, escapist and distinctively cack-handed, they make up a little world in themselves.
A box lies open: I Am Your Pizza announces the pie inside, sinister in its ingratiation. A badly drawn man twitches in his sleep, eyelids like hyphens, the nervous lines of the bedclothes eloquent of his nightmares. A hand shakes a dice, over and over in sequential frames, throwing one every time until infuriated by the ludicrous improbability imposed by art. But the hand cannot stop, trapped as it is in Shrigley's drawings.
These drawings are immediately recognisable: crummy, gauche, all boneless limbs, knob heads, crossings-out and ink blots. The handwriting, when it appears, leans backwards. If Shrigley drew any better than this, his humour would be compromised. You have to think there is some weird nerd out there drawing this stuff and that it is not quite Shrigley. It is a kind of visual ventriloquism.
And it is abetted by the actual use of words, of course, most famously in his taxidermied dog, entitled I'm Dead. This Jack Russell cannot talk, so it holds up the placard that speaks for it, and what does the placard say? That this dog is well past talking.
Over the years Shrigley has found all sorts of ways to crack these deadpan jokes, releasing a little philosophy in the process. Sometimes it is done by tautology. "Hanging Sign," says the hanging sign (and isn't that how we often put it: the sign says this, the hoarding says that, a solecism that is expressive in itself, for what exactly is the relationship between the medium and the message?) Sometimes it is done through cognitive dissonance – the ostrich has no head on its long neck (perhaps lost in the sand?) – or simple bathos: "Now that you have torn my heart out, you must wash your hands."
I particularly liked the animation called Conveyor Belt, in which various objects appear on the eponymous belt in imitation of The Generation Game, where contestants were awarded as many as they could remember. Along comes a hat stand, a teapot, a huge diamond and then suddenly four stick people, all of them rocking precariously as they pass before your eyes as if they weren't self-evidently drawings and not people. Shrigley's sight gags are as good as his verbal-visual humour.
That is most apparent in sculptures such as Boots. Black, shiny and misshapen, these boots weren't made for walking. They stump down the staircase in their lumpen way, bulbous, sneaky, with multiple personalities, invoking comedy boots from Disney and the Beano to Steve Bell and Axel Scheffler. (And made of concrete, Mafia-fashion).
They are very funny on a simple visual level, but there is an underlying conceit, which is the leap from two to three dimensions. This is what the boots of a cartoon pirate might look like if they came alive; and this is what drawings might look like when turned into full-bodied sculpture.
So there are thoughts to be had and jokes to be relished. Sometimes a sculpture will operate as a pun. A stuffed squirrel holding its own head: Nutless. A set of ribs that meets in the middle: Cage. The headless drummer bashing away at his high-hat – is he lost in music, mindless, a decapitated slave to the rhythm? It is a very free experience, Shrigley's show, because you end up making your own stories and captions and this is patently encouraged.
Some of the jokes fall flat, while others repeat a trope. The wall paintings are hopeless: tiny ideas vastly overinflated; in general, the longer Shrigley's films, the less they succeed. But the ratio of hits to duds is very high, and the show is expertly installed, with a very mordant final room and an accompanying catalogue featuring a droll dialogue between the artist and the author Dave Eggers.
That last room takes life (and afterlife) right down to the nub. Here is a bell accompanied by a notice warning that it cannot be rung until Jesus returns. (Who says: whose disembodied voice is this, laying down the law and just asking to be disobeyed in a rerun of Eden?) Here is a tombstone engraved with a shopping list. Whose life can this possibly represent – whose life can any epitaph on a grave ever represent? – this little catalogue of daily bread and tomatoes?
Shrigley's art is dark, but it is also mirthful and high-spirited. Take your children. They will enjoy the pretty sunray made out of swords and daggers without asking if it has some vile connotation; they will like the lexicon of images painted like a children's primer. Goodbye, says the skeleton; I eat worms, says the pretty bird. If you can call it a bird, and not an image; ah, that old visual paradox.
Ceci n'est pas une pipe, visitors may be thinking early on, when confronted by a door-shaped painting of a door with the word "Door" lettered clumsily across it. And sure enough, right at the end of the show Magritte's pipe itself makes an appearance (so to speak). Shrigley's caption to this caricature of a pipe is entirely characteristic. "This Is Nothing", he writes, modestly acknowledging his master, while smuggling in a bittersweet pun.
guardian.co.uk © Guardian News & Media Limited 2010
Published via the Guardian News Feed plugin for WordPress.
Categories
Tags