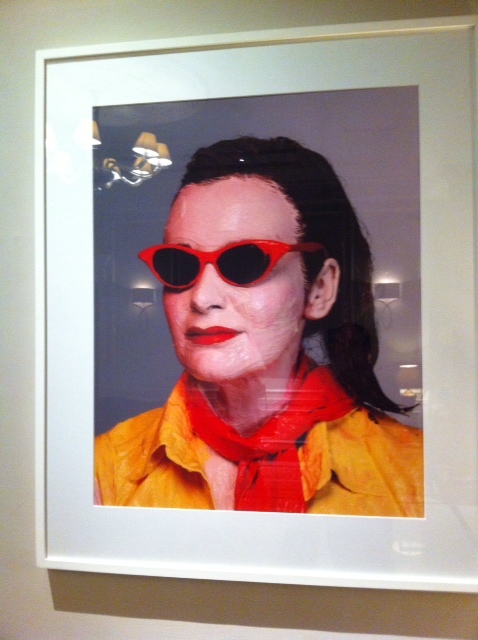 Boo Ritson
The Saatchi Gallery is definitely thinking outside the box, or should I say, the white cube. This year has already seen the launch of Saatchi Screen, a Pop up space in the shopping arcade near to the main gallery. Saatchi has never previously collected or even promoted video work in the past, a difficult medium to value and to show. So this foray into moving image art is a welcomed addition to the gallery's repertoire.
As is the newly opened 'One Giant Leap' show at the Hyatt Regency, Churchill hotel in Portman Square. Artwork from the collection, curated by Rebecca Wilson, Director of the gallery has been installed into the lobby of this high-end hotel with striking effect. Hotels are notoriously bad in terms of having artwork on display, usually consisting of abstract prints or picture post card photographs of Big Ben and the like. Here the lobby is transformed into a vibrant array of contemporary art. Rebecca has selected bold, statement pieces, which perfectly suit the smart interior space.
On the left by the entrance are Martin Honert's giants looking like two huge weary travelers, over the reception desk is Liz Neal's Green Lady, based on the famous painting of a Chinese girl by the Russian artist, Vladmir Tretchikoff. This is the perfect act of iconoclastic revenge.
Elsewhere we have stunning paintings by Dexter Dalwood on display, the illusionary work of Boo Ritson, a whole series of really beautiful small work by Chanal Joffe. There a wonderful sculpture piece by Jodie Carey, which appears to be an intricate flower arrangement, but is actually stained copies of the Daily Mail, using blood, tea and coffee.
As one goes towards the back of the hotel and the Churchill bar, we find artwork, which alludes the historical. Claire Pestaille's strange Old Master like portraits look like they belong here, hanging on oak paneling. In another corner is the military inspired work by former Royal Navy Sapper, Michael Lisle-Taylor.
In the lobby area, other pieces of note are Christina Mackie's hippo and a striking photograph by Hayley Newman entitled 'You blew My Mind'.
There is also a dedicated Saatchi suite in the hotel featuring artwork by emerging artists. Celine Fitoussi has created a wall-to-wall soap installation for the suite's luxury bathroom. In the living room there are two three-dimensional works: Ronin Cho's interactive knocking door, 'We know this but we just don't know how to show it' and Steve Bishop's 'Jean-Paul Gaultier – Classique (Arctic Fox)'.
On the walls are paintings by Carla Busuttil whose works deals with leaders and dictators; Jill Mason's head; Scott Reeder's disembodied 'Bloody Mouth'; two works on paper by Steve Lowery and a neon pink highly textured painting by Rafal Zawistowski entitled 'Judas'.
The suite's separate loo contains amusing work, such as Simon Bedwell's 'Untitled (Brains)', a found poster of a bikini-clad Claudia Schiffer doctored with spray paint; Jessica Craig-Martin's photograph of ladies using the bathroom at a New Museum Benefit Gala; and Hadrian Pigott's art joke in the form of an 18" bar of unusable soap, 'Slip it to Me'.
This outside of a white walled showcase of work in the Saatchi Collection is intelligently put together and allows visitors the opportunity to engage with contemporary art in a different context to a gallery. It is also a smart marketing move as the Hyatt Regency Churchill hotel is a partner for the Frieze art fair. The artwork in the reception area and the lobby is of course open to members of the public for free and if you have £700 spare you can book yourself into the Limited Edition Saatchi Suite for the night.
Ben Austin
Categories
Tags