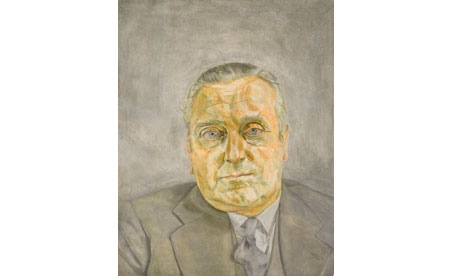 Lucian Freud's Portrait of a Man, which is up for auction. Photograph: Sotheby's

This article titled "Lucian Freud portrait of restaurateur goes up for auction" was written by Mark Brown, arts correspondent, for The Guardian on Tuesday 31st January 2012 16.54 UTC
A never-before-exhibited painting by Lucian Freud – of the kindred-spirit restaurant owner who provided so many of his long, enjoyable Soho lunches in the 50s and 60s – will be part of February's big London contemporary art sales.
Sotheby's said a 1955 painting of the restaurateur Bernard Walsh would be auctioned with an estimate of £1.5m-£2m at its contemporary art evening sale on 15 February.
The auctioneer's contemporary art specialist James Sevier said it was a significant painting and its emergence was an "exciting moment". "This is a work that has not been publicly exhibited or seen anywhere," he said.
The work is unmistakably a Freud. "The moment I saw it for the first time, you're struck immediately by what a masterpiece it is and how lucky you are to stumble across a work like this which has been in a private collection since it was painted," Sevier said.
The portrait shines a light on the School of London movement in which Walsh was, in a way, integral. He owned Wheeler's on Old Compton Street, which was Francis Bacon's favourite restaurant, a place where he would spend several hours a day talking and eating with the likes of Freud and Frank Auerbach.
"There was a real scene around the restaurant, and Bernard Walsh was as big a figure as the artists," said Sevier. "His friendship with Bacon and Freud was one of the important friendships in that School of London."
Walsh let the artists run up tabs and asked Bacon to do a portrait of Freud for him and vice versa. Freud though was keen to paint Walsh himself, and it is the resulting portrait that is now up for sale. "There was an obvious mutual respect between the two men and an admiration," Sevier said.
"It has all the hallmarks of a great Freud portrait, it has got that sustained analysis, an incredible awareness of texture between the tie, the shirt, the individual folds and creases on the face and the background which is covered in minute specks of paint."
The sale comes at the same time that a show of Freud portraits opens at the National Portrait Gallery.
Sotheby's is also selling five Freud drawings, including one of former Arts Council chairman Lord Goodman, as well as works by Roy Lichtenstein, Gerhard Richter, Jean-Michel Basquiat and Takashi Murakami.
guardian.co.uk © Guardian News & Media Limited 2010
Published via the Guardian News Feed plugin for WordPress.
Categories
Tags