Everywhere Trailer 2 from Toasters on Vimeo.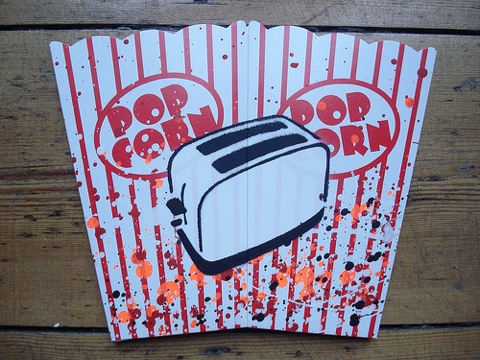 Over the past 13 years 3 people have placed their Toaster image's throughout the world.
It has become a familiar sign on our streets appearing on stickers, on posters, as stencils and as huge murals. Although pioneers of the street art movement, the Toasters' iconic symbol has also gatecrashed many a music festival, football stadium and cricket ground across the globe, appearing on banners and flags.
Their film 'Everywhere' documents the work of the Toasters, looking back to the days before the term 'street art' had been conceived. It shows the execution of some of their most recognisable work and gauges reaction from their peers and observers. The first ever screening of 'Everywhere' is at Village Underground and to celebrate the event the Toasters are producing 30 hand painted popcorn boxes. Each will be signed and will be given to the first 30 people in the queue before the doors open at 7pm. Admission is free.
www.flickr.com/
www.facebook.com
Categories
Tags