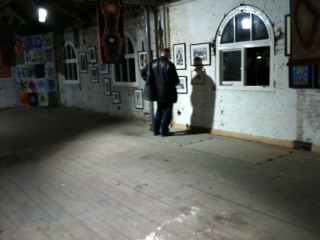 As a child of the '70's I was an avid fan of the Sex Pistols, though it wasn't their music which first attracted me, but Jamie Reid's artwork adorning the covers of their recordings. I determined that when I grew up I'd own my own original Reid piece.
Thirty years later and having yet to 'grow up', I've resolved to at last realise my childhood aspiration -albeit utilising Reid's 1972 exhortation to theft, "Shop Lifters Welcome", somewhat belatedly…
And so to the second (of three) recent Reid shows-Peace Is Tough in the suitably Elizabethan environs of Southwarks Bear Pit, the traditional area of Liberty and libertines, beyond reach of the law.
This was very much a show of two halves …the ground floor given over to among other things a tepee 'installation, performance area, lounge and bar ; the upper floor to a variety of Pistols era momento's and more recent Time for Magic mixed-media. These latter works marked a shift from punk era urban dislocation to a reconnection with the earth and nature itself.
These remind one (contrarily) of Edward Burra's final years, the same repudiation of an urban zeitgeist (Burra's jazz-era pictorial chronicle's of Soho , Paris and Harlem street-life) in favour of energised, primitive pastoral's-embodying the numescence of the untrammelled landscape.
However, if covetousness or aquisitivness is a barometer of aesthetic opinion,then I must own up to a nostalgia for Reid's earlier photomontage-evidenced by my failure to 'liberate' a swathe of recent work, unobserved from within the confines of the tepee.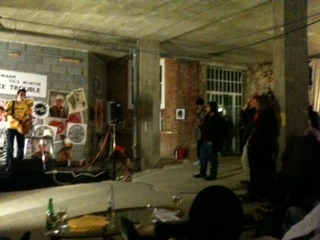 Conversely, on the floor above I really could'nt resist the various Great Rock & Roll Swindle prints; so- whilst the revellers below gyrated to Christopher Valentino's rendition of Johnny Cash'
Fulsom County Prison Blues and the wealthy and portly looking ex- punks give one another the 'once-over', walking sticks aplenty in hands once accustomed to holding Stratocaster's like (sonic)assault rifles-
So I meanwhile spent a long half hour awaiting the only other person on the top floor to vacate the room and thus graduate from mere novice to Bona-fide art thief…to no avail. Perhaps he, like me, was also "casing the joint" and was equally aggrieved not to be left in peace to burglarise-The shows title, Peace Is Tough, took on aposit meaning for us both I fear.
Finally, after Old Streets Ragged Kingdom and Southwarks Peace Is Tough the Paul Stolper Gallery concluded a Jamie Reid 2011 jamboree with Out Of The Dross, a show in which Reid revisits old images, but with a new twist.
Here familiar Reid tropes are replenished-Reids original ripost to the Beat's Merry Pranksters Magic Bus Trip-Nowhere Buses-is sublimated to accommodate Delacroix's didactic Liberty…(the Marianne replete with Phrygian cap,perhaps subliminally further enhancing Reids association with this recurring icon,given he's more esoteric interests); these too are given explicit expression in the inclusion of magical sigils and images of the hare and the oak leaf .
Enthusiasts of the psychology of place may infer associated resonance with this series of Reid shows, from the topography of Elizabethan Southwark as a locus of Liberty at the Bearpit,the appropriation of Delacroix's iconography of Liberty, a kind of social alchemy, exhibited here at Paul Spolper's Museum street gallery-literally a stones throw from the British Museum, where John Dee's magical tablets are displayed, not dissimilar to the pentagram sigils Reid has embellished the work here with.
So, from the Albion of Dee & Elizabeth I to the Dross and detritus of the Age of that queens present namesake in her own diamond jubilee year. Reid's silver jubilee adaptation of Beatons portrait of the queen is here given a (literal) dusting over, perhaps marking the passing from silver to diamond jubilee.
The show, a distillation of the Reid ouvre closes today Saturday 15th January 2012.
Paulstolper.com/ Till the next Jamie Reid show …
-Michael Knight.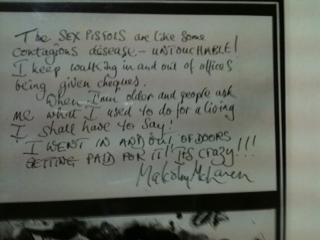 Categories
Tags