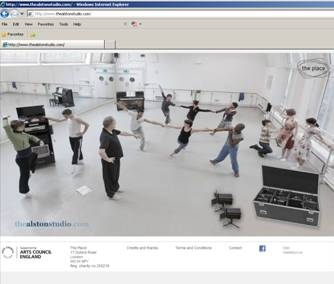 Richard Alston Dance Company has launched a new online resource, www.thealstonstudio.com,
created to provide dance teachers and students with insightful resource material on the work of Richard Alston, one of the UK's most distinguished choreographers. The website features a complete list of Alston's 130+ pieces, composed from 1968 to today as well as biographies of Alston, and his dancers, and a range of behind-the-scenes documentation. Descriptions, photographs and videos of pieces will continue to be sourced and added to the site. With this wealth of information, the website will also be fascinating for audience members who are interested in the work of the company.
Features include original video footage (including Headlong, 1973), new resources for Gypsy Mixture (2004), and a selection of films exploring the process of how Alston crafts his work. www.thealstonstudio.com will continue to be updated with new material, making it an increasingly invaluable tool for the study of Richard Alston's work.
Section 1 Richard: includes biography, photo gallery and interview material
Section 2 Repertoire: includes details for the 130+ pieces he has choreographed over more than 40 years, includes video footage, photographs and descriptions as well as resource and worksheets for schools.
Section 3 Music: explores Richard's relationship to music as well as information about playing live for dance class and performance
Section 4 Costume: videos looking behind the scenes in the wardrobe department
Section 5 Lighting: includes technical terms and information about how the technical crew work during a performance
Section 6 Creation: videos that giving an insight into Richard's choreographic process
Section 7 Rehearsal: a typical dancers' day, information about what it's like to be a Rehearsal Director, and Healthy Dancers' Booklet
Section 8 On tour information about what it's like to go on tour as well as a map showing where the company are going next
Section 9 Behind the Scenes: learn more about who works for the company and catch up on latest news
Section 10 FAQs: ask the company your own questions and read past questions and answers
Categories
Tags