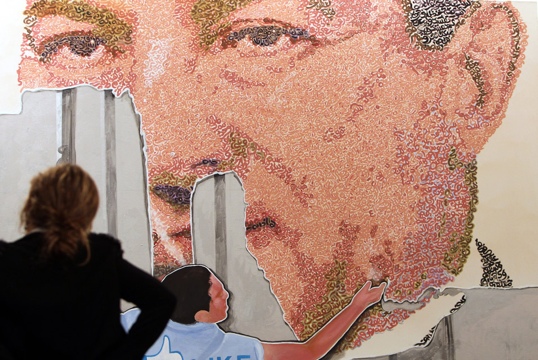 A woman inspects an artwork at Dubai Artspace Gallery for Ousted Egyptian President Hosni Mubarak by Moroccan artist Zakaria Ramhani during the official opening of the Art Dubai exhibition, in Dubai, United Arab Emirates, 15 March 2011. EPA/ALI HAIDER.
Art Dubai, in partnership with the Delfina Foundation, Dubai Culture & Arts Authority and Tashkeel, has launched Artists-in-Residence (A.i.R) Dubai 2012, an annual programme for artists and curators based in the historic quarter of Bastakiya, Dubai.
Artists Hadeyah Badri, Fayçal Baghriche, Zeinab Al Hashimi, Magdi Mostafa, Nasir Nasrallah, and Deniz Uster have been selected for the three-month residency in the lead-up to Art Week, the Gulf-wide programme of fairs, museum shows, exhibitions, performances and projects that coincides with Art Dubai each March. The 2012 curator-in-residence is Alexandra MacGilp.
As part of their residency, Fayçal Baghriche, Magdi Mostafa, and Deniz Uster are commissioned to make site-specific works for Art Dubai Projects, a programme of new works and performances that explore the fabric and economy of an art fair, embracing the theatrical nature of such an event.
All six artists will be exhibiting as part of an Open Studios programme included in Sikka Art Fair during Art Week 2012.
The artists—three from Asia and the Middle East, three from the UAE—were selected by representatives of the partner organisations plus guest curator November Paynter, Associate Director of Research and Programs at SALT, Istanbul and Director of the Artist Pension Trust, Dubai. The curator-in-residence was selected by A.i.R. Dubai selection panel, with critic HG Master of ArtAsiaPacific, following an open call. The curator's residency is in collaboration with ArtAsiaPacific.
Artists-in-residence
Hadeyeh Badri studied Visual Communications and Design at the American University of Sharjah. She is the co-founder of Möbius Design Studio, a collective engaged in experimental processes, and conceptual and formal investigations. Her work is an exploration of typography, photography and other media.
Curator-in-Residence
Based in London, Alexandra MacGilp is interested in film, video, performance and installation practices and working with archive materials. MacGlip has curated multi-media exhibitions with accompanying talks and performance programmes in London, Hamburg and Kabul, often working as part of a curatorial collective with Cassandra Needham. She contributes regularly to EXIT Express and artvehicle.com, which she co-founded in 2006.
Fayçal Baghriche lives and works in Paris. A collector of narratives and traces and an assembler of objects and films, he proposes images that thwart the identification reflex. Recent international exhibitions include 'Architecture of survival', Outpost for Contemporary Art, Los Angeles (2008); 'Second Hand', the Museum of Modern Art, Paris (2010); and 'The Future of a Promise' at the 54th Venice Biennial (2011).
Zeinab Al Hashemi is a young visual artist based in Dubai, who specializes in multi-media design and sources her ideas from elements of popular culture. She is also the creator of Dibs & Dips, the first Emirati pop art modern bakery concept.
Magdi Mostafa is a Cairo-based artist who works primarily with site-specific, research-driven sound projects, multimedia installations and experimental music. Exhibitions include 'Invisible Presence', Malawian museum, Cairo (2009); 'The One & the Multiple', La Capella de Barcelona (2010); 'Sound Cells (Fridays') ', Cairo Opera House (2010).
Nasir Nasrallah is a Sharjah-based visual artist. His practice is driven by the need to experiment with new concepts and methodologies and to transform raw materials into art. Nasrallah's first solo exhibition was held at the Sharjah Art Museum (2009). Other international exhibitions include The Fine Arts Creative Gulf Artists, Kuwait (2009) and Sana'a International Forum for Plastic Arts (2009). Nasrallah is vice chairman of the Emirates Fine Arts Society.
Deniz Uster is based in Glasgow and Istanbul. Her work often implies processes of transmutation, and draws upon the language of alchemy. Uster's work has been featured in 'Light Courses', Elgiz Contemporary Art Museum, Istanbul (2010); 'Encrypting Signs on the Fabric of a Rhizome', La Giarina Gallery, Verona (2011); 'Confessions of Dangerous Minds, Contemporary Art from Turkey', Saatchi Gallery, London (2011).
Categories
Tags