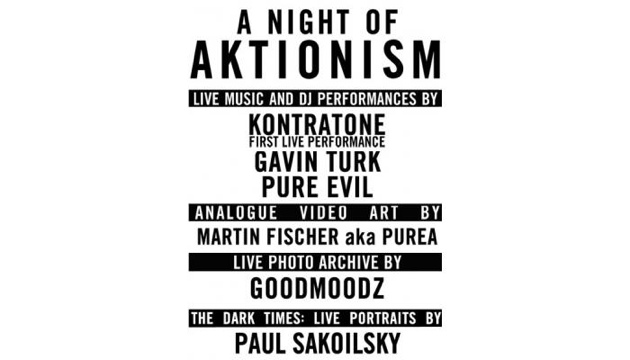 A Live-Archived evening of Art, Food, Performance, Video and Experimental Music
A Night of Aktionism …
Invites only event! You need to RSVP here:info@redgallerylondon.com
Presented by RED Gallery in association with Material
Let MATERIAL warm the cockles of your heart and loosen your purse strings with our mulled cider and late night festive shopping evening.
KONTRATONE live
GAVIN TURK
PURE EVIL
Analogue video art by MARTIN FISCHER aka PUREA
Live photo archive by GOODMOODZ
the dark times: live portraits by PAUL SAKOILSKY
Instead of reaction, action!
Since its birth as a pop-up space in April 2010, RED continues to thrive. During this time it has fast established itself as one of the East End's most exciting cultural hubs, a collective of creative individuals and organisations bringing together art, music, film and related cultural events, and as an instigator of national and international collaborations. From our inception one of the guiding principles has been to work with, and seek input from the local artistic and creative communities, to build new business models and strengthen local, national and international ties in order to further our vision of an expansive artistic culture.
To celebrate all this, RED has decided to hold it's first Radical Christmas Event, inviting all those who have had an impact on the direction, past, present and future of the project, to come together in an act of unity and celebration, and to look forward towards 2012.
Categories
Tags