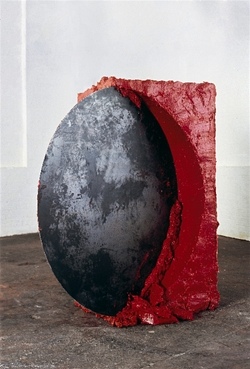 This article titled "This week's new exhibitions" was written by Robert Clark & Skye Sherwin, for The Guardian on Saturday 10th December 2011 00.06 UTC
Anish Kapoor, Nottingham
Following on from the ill-advised showmanship of Kapoor's popular 2009 Royal Academy show, this mini retrospective is a timely reminder of the evocative enchantments of his earlier and smaller-scale sculptures. Whereas the London spectacular caused a moderate rumpus with its cannonball ejaculations and sliding walls of wax, works from the early-80s here, such as White Sand, Red Millet, Many Flowers and 1000 Names, are organic archetypes that seduce us with their aesthetic charm and illusionistic depths. They tend more towards lyrical poetry and less toward fairground antics and bombastic melodrama. Yet another British sculptor led astray by his public successes, Kapoor will hopefully redeem his reputation with this small show with soul.
Castle Museum And Art Gallery, to 11 Mar
Robert Clark
Lygia Pape, London
Lygia Pape turned the bold, static geometries beloved by De Stijl and its brand of "concrete" abstract painting into forms you could touch, walk among or even dance with. This survey traces the late Brazilian artist's output, from early experiments with woodcuts and poetry in the 1950s to her well-known interactive works. Her wonderful Livro Du Tempo, or Book Of Time, is actually a wall work of blocky shapes in primary colours that spread out in a grid like the pixelated aliens from a Space Invaders game. Tteia (Web), meanwhile, creates beams of light with gold thread from ceiling to floor. Films of her performances include The Egg, a ballet of red, white and blue cubes; and Divider, where heads poke through the billowing landscape created by a white sheet.
Serpentine Gallery, W2, to 19 Feb
Skye Sherwin
Little Black Dress, Carlisle
When Coco Chanel launched her "Ford" dress in 1926 – a little black number that matched the decorum of a widow's mourning dress to the libertarian chic of the forthcoming decade – no one could have predicted how it would endure. Little Black Dress charts eight decades of adaptations, parodies and pastiches from the femme fatales of 1940s film noir, through the miniskirted precociousness of the 60s Chelsea sex kitten, to the goths and power dressers of more recent decades. Shown here as worn by Hepburn, Dietrich, Bardot and even Jackie Kennedy, like a great artwork, the Little Black Dress accrues the air of an almost all-inclusive icon.
Tullie House Museum And Art Gallery, to 26 Feb
RC
Graham Sutherland, Oxford
He painted British landscape as a gnarled, spiky beast, both ancient and raw and darkened by the violence of the second world war. Yet Graham Sutherland is still seen as a lesser talent from the last century, overshadowed by his younger friend Francis Bacon. His present-day fans include this year's Turner nominee and painter of council-estate ennui George Shaw, who has curated this show of more than 80 works. Sutherland's images of swollen fields, or trees knotted like crowns of thorns beneath muddy skies, stretch from the Welsh landscapes of the 1930s to war art and later works created in Pembrokeshire in the 1970s. Mountains, sun and rivers move to a primal pulse, by turns mystical, hallucinatory and gut-wrenching.
Modern Art Oxford, Sat to 18 Mar
SS
Painting Show, Birmingham
There's an increasing trend of practising artists curating exhibitions, thereby exploiting their experience of the creative process to stage shows that might be more refreshing than the theoretical sobrieties of most art historian curators. The artist-curator Gavin Wade describes this Painting Show, jointly curated with Sophie von Hellerman, as "an exhibition as an act of painting". So, individual works are installed to play against each other in an overall composition of academically irreverent liveliness. The knowing sophistications of Paul Thek and George Condo's "bad paintings" complement the disarming quirkiness of footballing great George Best's amateur effort. Tamuna Sirbiladze adorns the wall with sensuous delicacy, while Nicolas Party infiltrates pristine surfaces with all 200 colours in a spray-paint range. Elsewhere there are rainbows, love hearts and computer-controlled pig brains.
Eastside Projects, to 25 Feb
RC
Dara Birnbaum, London
One of the original media manipulators, Dara Birnbaum's been subverting stereotypes with her remixed clips from quiz shows, sitcoms and soap operas since the 1970s. In her latest installation, Arabesque, she focuses on the world of classical music, with YouTube clips of two works by Robert and Clara Schumann, which they created for one another. Clara's piece is represented by a single pianist, while the hands playing Robert's are legion, a testament to history's gender bias. Birnbaum's works made in video art's infancy also feature here, including her famed Attack Piece of 1975, where mostly male artists attempt to invade her space with cine cameras.
South London Gallery, SE5, to 12 Feb
SS
You, Me, Something Else, Glasgow
Maybe the sculpure here by Glasgow-based artists suggests the collective sculptural psyche of the city. There's a boldness to much of the work, balanced here and there by an almost self-mocking irony. Architectural constructions are afforded deadpan grandeur by an enigmatic humour; raw materials tend to be throwaway, miles and decades distant from bronze and marble. We see Claire Barclay's conundrums; Alex Frost's transformations of consumer packaging; Karla Black's spectral levitations; and a theatre of the absurd tableau by Joanne Tatham & Tom O'Sullivan. It's contrary, northern stuff, unashamed to call a spade a spade one moment and perversely call it anything but at another.
Gallery Of Modern Art, to 18 Mar
RC
Anselm Kiefer, London
An Anselm Kiefer show is always big and heavy. His themes, including the Holocaust, religion and a distinctly German Romantic mysticism, are tirelessly epic; the scale of paint, which might come decked in bare branches or battered ship hulls, is vast. This, however, is the largest work he's yet shown in the UK. The subject he returns to here is Tempelhof Airport in Berlin. Built on land once owned by Templar Knights, it was redesigned with a Nazi agenda as Hitler's gateway to Europe. Kiefer envisions it as a cathedral of apocalypse in paintings with plenty of his artistic alchemy – the metamorphosis of the raw materials he heaps on into works of art in the mind of the beholder – offering a glimmer of redemption for the world's history.
White Cube Bermondsey, SE1, to 26 Feb
SS
guardian.co.uk © Guardian News & Media Limited 2010
Published via the Guardian News Feed plugin for WordPress.
Categories
Tags