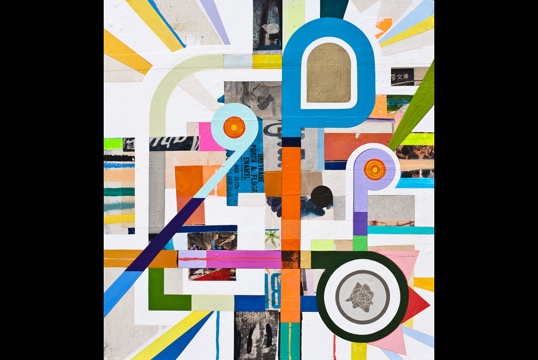 Gabriel Dubois, Self Portrat. Courtesy of Edel Asanti.
London Art Fair announces the 29 galleries taking part in Art Projects, the Fair's curated showcase of the freshest contemporary art from across the globe, in large-scale installations, solo shows and group displays.
FULL LIST of Galleries here:www.londonartfair.co.uk/
Curated by Pryle Behrman, Art Projects captures a snapshot of the current concerns of contemporary artists, providing an insight into the future of the art world. This year, escapism is a dominant theme of this curated section of the fair, with artists demonstrating a reaction to the financial crisis and its impact on the art world.
Pryle Behrman, Art Projects curator comments: "More so than any other year, Art Projects in 2012 highlights a need for escapism; the themes of travel and dream are very prominent. The artists often take a satirical approach to their work, questioning established authorities and mocking the art world itself."
Highlights of the selected galleries include:
• The Hannah Barry Gallery will showcase 13 young painters' exploration of what it means to be a painter in the 21st Century.
•Ghost of a Dream, presented by the corbettPROJECTS is the collaborative team of Lauren Was and Adam Eckstrom who use discarded lottery tickets to create installations representing people's fleeting dreams.
• BEARSPACE focuses on dreams, danger and the fantastic through an exhibition of paintings and prints by Jane Ward, Reginald Aloysius and Suzanne Moxhay.
• WHATIFTHEWORLD/ GALLERY from Cape Town, present a solo show of paintings and drawings by Michael Taylor, exploring narrative in art and drawing on the artist's own experiences and wider cultural references.
• SALON VERT will present a project by American-Chinese artist and actress Lucy Liu. In Liu's Falling Into Silence series, embroidered and stitched skeletal totems are set among small found objects – wood, broken glass, butterfly wings or crumpled notes – in an exploration of sexuality, identity, race and memory.
• A group exhibition set up by dalla Rosa Gallery which tackles the concept of real and imagined destinations.
Other Art Projects highlights will include curated showcases by Edel Assanti, Limoncello Editions, Rise Art and JECZA Gallery.
Located alongside the main Fair, Art Projects provides a unique environment for younger galleries and new work, complementing the great names of 20th century British Art and contemporary work from leading figures featured in the main Fair. Art Projects has established itself as an international platform for new galleries to showcase the most stimulating contemporary practice. Prices range from £500 to £10,000.
London Art Fair tickets are now on sale at £11 (plus £1.50 booking fee) in advance, including a copy of the 2012 Fair Guide (to be collected at the Fair). Tickets on the door are £16.
Categories
Tags