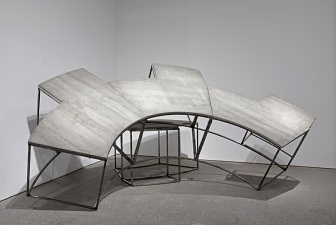 La Ruota Dentata [The Cogwheel], 2009Iron and concrete
170 x 390 x 290cm Image courtesy Museo Nacional Centro de Arte Reina Sofía, Madrid
Asier Mendizabal 8 December 2011 to 12 February 2012
Raven Row will present the work of Asier Mendizabal (born Ordizia, Basque Country, 1973), in his first solo show in London.
Mendizabal researches the symbols through which cultures are represented. He is especially interested in oppositional and sub-cultures, which are often defined by their adherence to such symbols. Mendizabal unpicks and re-imagines these, questioning the relation of cultural identity to cultural representation, and generating new forms of abstraction.
Mendizabal works with a variety of media, and this exhibition will include photography, graphics and photomontages, but its strongest register will be with abstract sculpture. In a new text written to provide a context for the exhibition, Mendizabal has translated a letter by Basque artist Jorge Oteiza, addressed (but never sent) to the jury of a competition organised in 1952 by the ICA in London, to select a monument to The Unknown Political Prisoner. He reconsiders Oteiza's argument for a radical abstraction to represent the political in art.
Mendizabal's solo exhibitions include: Asier Mendizabal, Museo Nacional Centro de Arte Reina Sofía, Madrid, 2011; Asier Mendizabal – and/or, Culturgest, Lisbon, 2010; and Asier Mendizabal, Museu d'Art Contemporani de Barcelona, 2008. His work was recently included in the Venice Biennale, 2011, and To the Arts, Citizens!, Museu Serralves, Porto, Portugal, 2010. He is represented by Carreras Múgica Gallery, Bilbao, Gallery ProjecteSD, Barcelona, and Anthony Reynolds Gallery, London. He lives and works in Bilbao.
www.ravenrow.org
About Mark Westall