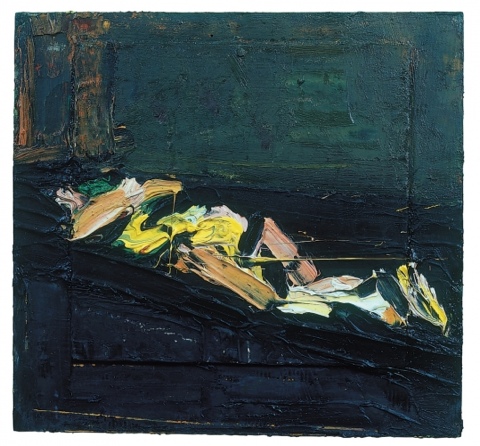 Frank Auerbach Reclining Figure 1972 Private Collection NY copyright Frank Auerbach from show at Haunch of Venison
This article titled "This week's new exhibitions" was written by Robert Clark & Skye Sherwin, for The Guardian on Saturday 3rd December 2011 00.06 UTC
Gareth Griffith, Misha Shengelia, Llandudno
The painter's canvas has experienced subtle metaphorical changes over the centuries. As well as being a bit of stretched cloth to pile paint on, it's stood in for veil, shroud, screen and curtain. Here, Gareth Griffith realises the suggestive connection between studio canvas and campsite tent. The painter's studio has always had an element of getaway refuge or hideaway den and Griffith has made a series of painted shelters that most of us would love to psychically hibernate in. The title of the accompanying show by Misha Shengelia – Bruegel Boogie Voogie – hints at his work's air of irreverent art-historical reference and playful narrative improvisation. For our age of information overload, Shengelia's highly personal diary of sketched visuals and scrawled utterances presents his global village view like a Comic Cuts script for some Dadaist farce.
Oriel Mostyn, to 15 Jan and 26 Feb
Robert Clark
Bridget Smith, London
Bridget Smith's interests lie in the real-life building blocks of imaginary worlds. Her latest film, We Must Live!, tackles ritual and faith in a Spanish village. Moving away from the interiors that have dominated her work, the transformative magic space here is a coffin, centrepiece of a procession for locals who have been ill. Meanwhile, faith and science collide in photographs of the Lourdes shrine, where medics tackle the truth behind miracle cures.
Frith Street Gallery, W1, Fri to 11 Feb
Skye Sherwin
Museum Show Part 2, Bristol
Arnolfini's artists' museums show, staged to celebrate the art space's 50th anniversary, is a must-see for anyone who has issues with authority. Things began with a bang, pairing art-historical icons such as Marcel Duchamp and Marcel Broodthaers with today's major names including Susan Hiller and Peter Blake. This second instalment focuses on younger artists tackling modern issues. Take Jerusalem-born Khalil Rabah, who explores colonialism and displacement in his Palestinian Museum Of Natural History And Humankind; or Simon Fujiwara's The Museum Of Incest, which creates fictional fantasy architecture from buildings his architect father designed.
Arnolfini, Fri to 19 Feb
SS
United Enemies, Leeds
United Enemies might be weighed down by its sober subtitle, The Problem Of Sculpture In Britain In The 1960s And 1970s, but it reminds us of a period of sculptural innovation. From beneath the oppressive blandness of British monuments on plinths, pretentious pseudo-modernism, or tedious public art, emerged such works shown here as Jeff Lowe's Circular Steel Sculpture, and Keith Arnatt's Art As An Act Of Retraction, a series of photographs of the artist eating each of the words "Eleven portraits of the artist about to eat his own words". But is it really sculpture? Well, that's the whole problematic point.
Henry Moore Institute, to 11 Mar
RC
The Mystery Of Appearance, London
This show boasts the cream of postwar British painters: Francis Bacon and Frank Auerbach among them. These artists, many of whom had been students or teachers together at London's art schools, were a tour de force in an art world dominated by American abstract expressionism. As champions of figuration they depicted the 1950s and 60s, and all the dreams and nightmares of a society being rebuilt. More than 40 paintings take in major and lesser-seen works, including Bacon's iconic screaming Pope and one of Auerbach's lesser-known Primrose Hill paintings, capturing Winter Sunshine in thick scuffs and smears of pigment.
Haunch Of Venison, W1, Wed to 18 Feb
SS
The Peripatetic School, Middlesbrough
These drawings from Latin America recognise that our experience of landscapes is one of movement: the landscape moves and the viewer moves through it. And drawing, as a portable procedure, is perfect for portraying the difference between experiencing landscapes and traditional picture-postcard scenes. So here, there's a drawing made with red brick dust, and an exhibit of a single green pencil; drawings mapping wanderings, and others that treasure random discoveries such as Ishmael Randall Weeks's Fragments. They're artists who make a point of being itinerant, nomadic, and positively unsettled.
Middlesbrough Institute of Modern Art, to 4 Mar
RC
Mustafa Hulusi, London
Mustafa Hulusi's latest film, The EMPTY Near East, chronicling a new Eden on a post-human Cyprus, builds on his mysterious conflation of politics and commercial culture. The London-born, Turkish-Cypriot artist has previously aped advertising's slick appeal, from photorealist paintings of his niece picking flowers in Cyprus, to covering his East End neighbourhood with billboard posters bearing his name in a cool, chunky font. With their intentionally vague flavour these works could be political statements or lifestyle-conscious ads. His new film is similarly tricksy: in the voiceover, it spins a fictional catastrophe that recalls Cyprus' conflicted past over honeyed footage of blue seas, rustic beehives and golden fields that wouldn't look out of place on a posh holiday programme.
Max Wigram, W1, Wed to 14 Jan
SS
Scottish National Portrait Gallery, Edinburgh
The initial attraction here is less the rejigged portrait collection than the elaborate arts and crafts movement splendour of the £17.6m refurbished building itself. Yet the exhibits do full justice to the human history of the nation, from Mary Queen Of Scots to Ewan McGregor. But there are some historical and creative surprises. A section titled Blazing With Crimson might be all blokes sporting kilts and sporrans but Pioneers Of Science counters a portrait of John Logie Baird with the death mask of Dolly the sheep. And chiming a more contemporary note, Graham Fagen's video installation is a collage of ebbing waves and wilting petals dedicated to the Scotland's anonymous missing persons.
Relaunch of permanent collection, ongoing, nationalgalleries.org
RC
guardian.co.uk © Guardian News & Media Limited 2010
Published via the Guardian News Feed plugin for WordPress.
Categories
Tags