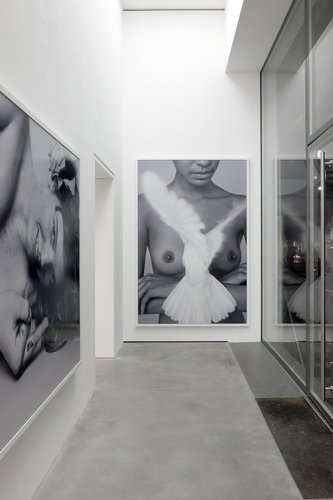 Ryan McGinley at Alsion Jaques Gallery
This article titled "This week's new exhibitions" was written by Robert Clark & Skye Sherwin, for The Guardian on Saturday 26th November 2011 00.06 UTC
Ryan McGinley, London
Ryan McGinley's modish photographs inject the youthful slacker fantasies of style magazines with something closer to the children's book illustrations of Arthur Rackham. Both artists depict bare-skinned babes and slender youths lost in ornately detailed magic woods and caves, though the fairytales McGinley captures take place in the American wilds, and his models are somewhat older. He's certainly come far since the Larry Clark-influenced Polaroids of his New York friends partying, which first vaulted him to art and fashion-world celebrity in 2003. Now that he's shooting campaigns for fashion houses, his art photography has got big and painterly and his models are no longer close pals but sourced through an elaborate casting process. These latest works play up photography's marriage of chance and artifice, with nudes cavorting in impossibly golden, molten seas, waving at purple skies, or diving from knotted tree roots into the tangerine-hued bowels of the earth.
Alison Jacques, W1, to 22 Dec
Skye Sherwin
Northern Art Prize, Leeds
The fifth annual Northern Art Prize exhibition further stresses a trend of national cultural significance: namely that it's possible these days for UK artists of international standing to survive and flourish outside the capital. And here's another £21,000 in prize money to share between the four shortlisted artists to help them with their struggle. Liadin Cooke's highly moving Miserable Object is made in tribute to a 19th-century needlewoman's religious redemption following a breakdown triggered by sexual harassment. Comparably super-sensitive but in formal contrast is James Hugonin's lyrical painterly minimalism. Meanwhile, Leo Fitzmaurice and Richard Rigg transform practical banalities into sculptural intrigues.
Leeds Art Gallery, to 19 Feb
Robert Clark
Paloma Varga Weisz, Cardiff
The characters Paloma Varga Weisz conjures in painting and sculpture might have wandered out of a half-remembered fairytale or some other corner of our collective cultural memory. Since the 1990s the German artist's bewitched crew has included people with animal ears or Janus faces. Realised with the narrow eyes and sinuous bodies of medieval gothic church art, her figures look both ancient and timeless. Best known for her wood carvings and watercolours, here she's turned her hand to the glazed ceramics favoured by Britain's arts and crafts movement. Memories of family holidays to the UK inspire her latest figures, whose fluid features emerge from clay as if transformed, from male to female or from dreams to death.
Chapter Gallery, to 4 Jan
SS
Between Dimensions, Middlesbrough
Throughout history, still-life painting has seen the mundane clutter of our domesticity as being full of metaphoric potential; from the very beginning a worm-ridden apple could carry the mortal weight of Shakespearean tragedy. Two of the greatest still-life painters of all time are included in this charming exhibition. Pablo Picasso is represented by Bottle Of Vieux Marc, Glass, Guitar And Newspaper, which prefaced a revolution in 2D perception. Possibly even more extraordinary is all-time master magician of the genre, Giorgio Morandi's Still Life 1946. As impressive as these two, however, is Welsh contemporary artist Elizabeth Fritsch's claim that her relief experiments operate in "two-and-a-half dimensions".
MIMA, to 24 Feb
RC
Allora & Calzadilla, London
Allora & Calzadilla are an American-Cuban duo who skewer political misdeeds with absurdist antics. These videos, created over the past decade and shown together for the first time, are all set in Vieques, a little Puerto Rican island blown up and contaminated by the US navy, who used it as a bomb-testing range until locals waged a civil disobedience campaign in 2003. Drawing attention to the island's abuse, in one work a local activist travels around with a trumpet welded to his moped's muffler, burping out toots with every bump in the road like echoes of former explosions. Another sees men double as flags, suspending their bodies horizontally from flagpoles with muscles straining to stay at half-mast, a sign of mourning.
Lisson Gallery, NW1, to 14 Jan
SS
John Myers And Stuart Whipps, Birmingham
Two photo artists present images of the Midlands which – while apparently picturing the area as an architectural and cultural backwater – manage to imbue it with some kind of retrospective, even retro-historical, grandeur. Alongside portraits from his Middle England series, John Myers' uncompromising documentary photographs of nothing going on, titled with appropriate wit Boring Landscapes, are accompanied by snaps of blank TV screens. Meanwhile Stuart Whipps's photo-installation Why Contribute To The Spread Of Ugliness almost perversely attempts to resurrect the reputation of John Madin, an architect responsible for many of the Birmingham area's brutalist buildings, since popularly earmarked for demolition. Thus both Myers and Whipps do exactly what artists ought to: contradict complacent cultural presumptions and make us look again.
Ikon Gallery, to 5 Feb
RC
Paul Lee/Kimber Smith, London
There's a whiff of locker-room dalliances to Paul Lee's sexy, low-rent assemblages. Flannels, towels, old socks, glowing lightbulbs and crumpled drinks cans (wrapped in photos of handsome young guys) rank among his favoured materials. Here tambourines and terry towels are cut up, painted and dyed in constellations suggesting both intimate encounters and modernist abstractions. This work offsets the first London showing of a little-known abstract expressionist painter, Kimber Smith, who left the US for Paris in the 1960s and used an arsenal of geometric shapes following his own private symbolism, before his career was cut short by cancer.
Modern Art, W1, to 21 Dec
SS
Bohemians In Exile, Ambleside
A fascinating story of the initial culture clash and gradual mutual appreciation as 150 Royal College of Art students were evacuated from the capital to the Lake District between 1940 and 1945. The cultural sophistication of South Kensington was swapped overnight for Ambleside's rural charms. Lecturer Gilbert Spencer's lyrical, if a tad stodgy, landscapes and portraits set the scene, but there are also pieces by the spirited students themselves, including John Thistlethwaite, credited with introducing the jitterbug to RCA Ambleside's Saturday night hop.
Armitt Museum, to 17 Mar
RC
guardian.co.uk © Guardian News & Media Limited 2010
Published via the Guardian News Feed plugin for WordPress.
Categories
Tags