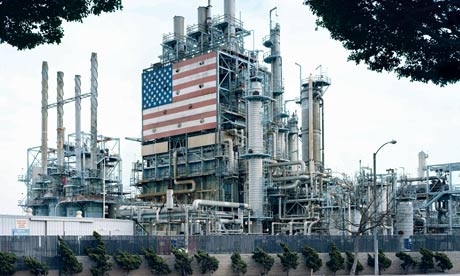 BP Carson Refinery, California (2007), by Mitch Epstein. Photograph: Mitch Epstein
This article titled "This week's new exhibitions" was written by Robert Clark & Skye Sherwin, for The Guardian on Saturday 12th November 2011 00.05 UTC
Mitch Epstein, Liverpool
This inaugural exhibition in the Open Eye's new gallery, purpose-built slap-bang in Liverpool's Waterfront cultural quarter, features Mitch Epstein's momentous photo-documents of the American Dream gone to hell. The series had its 2003 inception in a remote Ohio town where land had recently been compulsorily purchased by the American Electric Power company. Epstein subsequently went on to photograph sites of mass energy production and consumption across some 25 states. Imbuing the lot with an almost terminal grandeur, Epstein proves that landscape photography is capable of retaining a persuasive, campaigning role as our landscapes continue to erode.
Open Eye Gallery, to 23 Dec
Robert Clark
Paul Noble, London
It's the end of the line for Nobson Newton, an epic series of fiendishly detailed giant drawings and sculpture. Fifteen years have passed since Noble first embarked on his impassioned satire of Britain's new towns, in a medium as fragile as the housing developments he riffed on. Yet this show marks the culmination of a project that seems more pertinent than ever, with its delicately drawn, raucous vision of huge turds doing unspeakable things amid a landscape dominated by failed urban planning, joblessness and obsolete modern art. Even the boulders and the Henry Moore sculptures found among the rubble melt into scatological blobs. Yet all the sex and shit jokes have a serious side, putting the physical world over artists' and architects' hollow visions.
Gagosian, WC1 to 17 Dec
Skye Sherwin
Rivane Neuenschwander, Dublin
Installation artist Rivane Neuenschwander invites us to engage with scenarios of sentimental regret. Visitors inscribe secret wishes on ribbons that are exchanged for wishes inscribed during her past shows. These are then to be worn on the wrist so, according to a Brazilian tradition, the wish will come true the moment the ribbon wears off. Meanwhile, a resident police artist sketches portraits, based on descriptions given by visitors of their first loves, to adorn the walls like so many plaintive wanted signs. Known as a key figure of Brazilian conceptualism, Neuenschwander follows a soap bubble as it drifts through a deserted house in her film The Tenant. If that's a concept, it's a rather poetic one.
Irish Museum Of Modern Art, Wed to 29 Jan
RC
Paul McCarthy, London
Paul McCarthy's art is messy: a bloody, chocolate-sauce smeared shakedown of pop culture stuck in a wild freakout. This show doesn't hold back on his mad carnival made up of political figures, Disney characters, movie stars and the self-abusing artist himself. The centrepiece is Pig Island, an installation of an artist's studio littered with paint cans, fast-food boxes and replica body parts. Then there's Pig Island's offspring, including a mechanical sculpture of George W Bush having his wicked way with a swine. As if this mash-up of diseased culture wasn't dizzying enough, McCarthy ramps it up with Mad House Jr, a spinning camera inside a rotating box. The projected video feed of its crazed, helter-skelter movements delivers the sickening effect of a fairground ride.
Hauser & Wirth, W1, Wed to 14 Jan
SS
A Darkness More Than Night, Derby
Following its exhibition devoted to art that makes us laugh, QUAD continues to tackle refreshingly singular genres with this show on a theme of "noir", that enduringly cool style made popular through 1940s and 50s Hollywood films featuring obscure crimes and irrepressible passions. In recent times, noir has been revived as neo-noir and the pieces here offer an intriguing perspective on contemporary art that has some kind of edge of suspense. Accordingly, Cerith Wyn Evans presents a neon sign leading us on with the slogan "Meanwhile … across town", while Johan Grimonprez's video Double Take is spooked by the droll doppelgänger of Alfred Hitchcock.
QUAD, to 29 Jan
RC
RCA Secret 2011, London
This annual show, now in its 18th year, is a piece of fundraising genius benefitting the RCA Student Award Fund. All of its 2,800 postcard-sized artworks are for sale at £45, but the talents behind them remain anonymous until they've been purchased. Alongside students and graduates from London's Royal College Of Art, those who've donated work this year include Yoko Ono, Tracey Emin, Grayson Perry, Jake Chapman and Sir Peter Blake. Alongside the art bigwigs there are contributions from the likes of Wallace & Grommit creator Nick Park, shoe designer Manolo Blahnik, fashion great Mary Quant, photographer David Bailey, and furniture genius Ron Arad.
Royal College Of Art, SW7, Fri to 26 Nov
SS
Kith And Kin, Sunderland
In the hallowed academies of the art world, it has been widely accepted for the last century that fine art, while being virtually indefinable, can be made out of anything ranging from a retitled toilet through to an exploded garden shed. In practice, however, the disciplines of fine art on the one hand and design craft on the other continue to exist in mutually distrusting exclusion. This remains the context within which Sunderland's National Glass Centre excels with exhibitions of creative work which – while generally and often rather loosely having some technical connection with glass craft – undoubtedly plays the fine art game. Kith And Kin continues this refreshing trend by bringing together contemporary art almost mischievously constructed from glass and ceramics, including Andrew Livingston's votive offerings and Nick Renshaw's transparently breakable sculptural souls.
National Glass Centre, to 12 Feb
RC
Victor Pasmore, Salisbury
When Victor Pasmore threw over his paintings of hanging gardens, leafy parks, winter mornings, quiet rivers and nudes in favour of abstraction in the late-1940s, it came as a shock to many of his fans. The British artist blazed a trail for abstract art, first with thickly painted geometries and then with reliefs constructed from plastic and other new materials. This show pairs his sparse constructions of lines and rectangles with later spray paintings. His plastic discs, hardboard rectangles and lines sound a minimal staccato, while forest green or midnight blue spray paint swirls around in organic crescendos.
New Art Centre, Roche Court, Sat to 29 Jan
SS
guardian.co.uk © Guardian News & Media Limited 2010
Published via the Guardian News Feed plugin for WordPress.
Categories
Tags