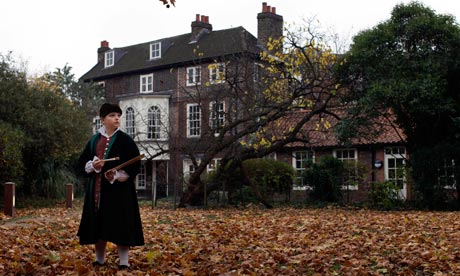 A pupil at William Hogarth School dresses as the satirist outside the Chiswick retreat that has reopened to visitors. Photograph: Matt Dunham/AP

This article titled "Hogarth's house to reopen after surviving fire – and urban sprawl" was written by Maev Kennedy, for The Guardian on Monday 7th November 2011 17.21 UTC
When William Hogarth's home was advertised for sale in 1814, the Morning Chronicle called it "a small but highly respectable house in an excellent garden walled around". Almost 200 years later – and about to reopen to visitors after a restoration during which it narrowly escaped being destroyed by fire – the country retreat is now deep in busy west London.
Hogarth's mulberry tree still grows in the garden, but his studio at the end of it is a derelict factory, a gable window looks out on a towering office block and the former country track named Hogarth Lane after him is six lanes of traffic roaring out of the Chiswick roundabout towards the M4.
Inside, however, it is recognisably the same house once occupied by the great Georgian satirist. Many possessions have returned for the first time since the artist's death, including his palette – later owned by JMW Turner – on loan from the Royal Academy, his paint box, and his ladle, glasses and precious Chinese porcelain punchbowl that was broken and carefully mended several times.
At a time when many local authority museums face crippling cuts, the house – which is owned by Hounslow council and has been a museum since 1904 – is about to reopen after a lottery-funded restoration. Admission will be free and opening hours will be longer and six days a week thanks to the help of volunteers from the William Hogarth Trust. Historian Val Bott, of the trust, has spent years researching the house, its residents and contents. She said: "Even in the 19th century there was concern about the future of this house but our researchers have shown that the people who had it then were well aware of its heritage and took very good care of it."
Hogarth, the poorly educated son of a Latin teacher who served five years in debtors' prison when Hogarth was young, became one of the most renowned social satirists of the 18th century. His print series such as The Rake's Progress and Marriage à la Mode and his stark images such as Gin Lane inspire artists and cartoonists to this day. In 1729 he married the daughter of the society artist Sir James Thornhill and 20 years later they bought the small house on the edge of open fields, on the outskirts of the fashionable riverside village of Chiswick, then a rural refuge from the noise and grime around their home in Leicester Square.
Although they had no children, Hogarth was a founding patron and fundraiser for his friend Captain Coram's Foundling Hospital, often inviting children from the hospital to stay in Chiswick and, according to legend, bringing them pies made from mulberries in the garden. Hogarth died in 1764 at his London home, but chose to be buried in Chiswick, and his wife, sister and cousin continued to occupy the house until 1808. Bott has traced all the later residents, a surprisingly colourful bunch including the Rev Henry Francis Cary, who produced a renowned translation of Dante, entertained writer friends in the house including William Hazlitt, Charles Lamb and Thomas de Quincey, and became assistant keeper of printed books at the British Museum (from where he resigned in disgust when he failed to be appointed keeper); and the flamboyant actor Newton Treen Hicks, known as Brayvo, whose most spectacular characters were sold as prints to be cut out and enacted in toy theatres.
The house was due to reopen a year ago, but in August 2009 fire broke out in a ground floor electrical cupboard. It spread behind the wooden panelling and in the attic where servants once slept there is still an overpowering stench of smoke. Firefighters were just in time to prevent the house from being gutted.But the valuable prints collection was still in store and much that was destroyed was from the 1990s, including a hideous pink carpet.
New loans to the house include memorabilia from a major Hogarth collection at Aberdeen art gallery, which was built up in the 19th century by a granite quarry owner called Hogarth who believed himself a descendant – wrongly, since the Hogarth women who lived on in the house were all impeccably childless.
The house will be formally reopened by the Irish comedian Dara O'Briain – "humorist, social commentator, Chiswick resident – what could be more appropriate?" Bott said.
guardian.co.uk © Guardian News & Media Limited 2010
Published via the Guardian News Feed plugin for WordPress.
Categories
Tags