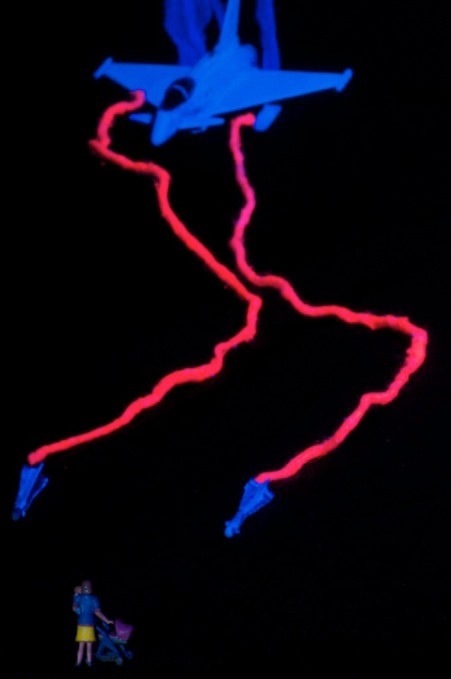 Iyvone Khoo Collateral Damage

With a list of famous alumni to rival any international university, Central Saint Martins is the stuff of local legend. From the bad boys of BritArt to the grand-daddies of modern painting, many daubed their first canvas as a student while studying at Central Saint Martins; Lucian Freud completed his course in 1939, Gilbert & George met and studied fine art there, while England's best-known sculptor Antony Gormley is a 1974 graduate. Now jotta and Culture Label collaborate with the college's most recent alumni– the graduating artists from the Central Saint Martins MA Fine Art 2011 course, to create the Editions Space.
The programme is curated by jotta, and displays artwork specifically commissioned and produced by jotta, offering a supplement piece that complements the graduating artists practice.
The Editions Space offers artworks commissioned exclusively by jotta to compliment each graduating artist's practice, offered for sale exclusively through Culture Label. Editions will range in price from around £150 – £450, giving the collector an accessible and credible way into the contemporary art market, while supporting emerging artists.
Handpicking the art stars of tomorrow, it is a truly international assembly of artists, with practices that engage with a plethora of mediums, from film and video through to oil painting, sculpture and photography.
A selection of the artists exhibiting:
Tehran born artist Sara Masinaei has exhibited widely in Dubai and London. Experimenting with a range of mediums, she seeks to conflate subversive art with 'modern public sphere' by assembling elements that contain symbolic permanence or social references. Masinaei's edition of sculpture with a sound piece will be sold as a digital download.
Chloe Sells was born in Aspen, Colorado and attended the Rhode Island School of Design, from which she graduated in 2000 and received a Bachelor of Fine Arts in photography with honors.
She was personal assistant to Hunter S. Thompson for two years preceding his death.
Sells currently lives and works between London and Botswana and prints each of her photographs by hand in her darkroom.
Austrian born Anja Aichinger studied photography at London College of Communication before receiving her MA in Fine Art from Central Saint Martins. She has exhibited in the UK and Austria. Anja's work navigates the realm between the real and the unreal. Anja will reconsider her photographic practice in small scale editions, postcard size that would be available for an affordable price.
Iyvone Khoo's video works have been exhibited in London and Singapore since 2009, with special commission from The Wellcome Trust, Film London and Skillset. Her video works are currently engaged and directed by a 'situation' of an event, of places and of people. Her Editions will be stills from her video works.
See these and more on jotta's Editions Space
Categories
Tags