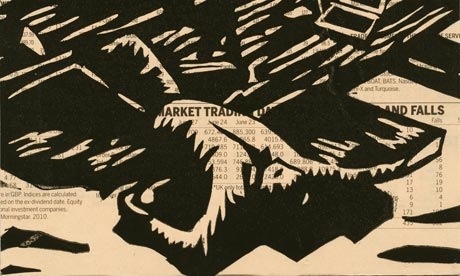 Some of this year's offerings at RCA Secret respond to events such as the English riots and the economic crisis

This article titled "RCA Secret: annual exhibition of postcards gets a more political edge" was written by Mark Brown, arts correspondent, for The Guardian on Friday 28th October 2011 16.37 UTC
It is the usual mix of hard-up, unknown postgraduate students and established artists from a starry list that includes Tracey Emin, Yoko Ono, Anish Kapoor and Mike Leigh. But this year there is a distinct political edge to the RCA Secret postcard exhibition.
Who did what will not be known for a month when the charity fundraiser, which has established itself as one of the most interesting and fun events on the visual arts calendar, takes place to raise money for student bursaries at the Royal College of Art.
The curator Wilhelmina Bunn said the postcards were donated by professional artists, designers and illustrators as well as students on the RCA fine arts course. "It's going very well," she said. "At the moment we've got around 2,100 postcards, although I'm still taking calls from people saying: 'Honestly, I'm going to get it to you,' so we should have more than 2,500 by the time we open.
"It is a very tight turnaround and it means you don't know what the exhibition is going to look like until you're more or less putting it on the wall."
Each postcard is signed on the back so collectors have no idea whose work it is until they buy it.
All of them are new works and Bunn said she had noticed contributions becoming more overtly political. The portrayal of current events was more noticeably graphic, she said, and a fair number of this year's cards are a response to the August riots and the economy.
"We have got quite a lot of artists who do make political work but it has maybe been quite subtle, or more conceptual or humanist or spiritual, and then suddenly everybody goes: 'No, we're going to really talk about those things being reported.'"
This year there are names from art, fashion, design and film: contemporary artists include Grayson Perry, Olafur Eliasson, John Baldessari, Richard Wilson, Maggi Hambling and Christo; fashion is represented by Sir Paul Smith, Dries van Noten and Erdem; in design there are Sir James Dyson and Kenneth Grange; and film-makers include Mike Leigh and Nick Park.
This is Bunn's sixth year as curator and, as an RCA graduate herself, her 10th of putting in a postcard of her own. "I always feel very nervous because you're in such incredible company."
Bunn said most of the time contributors were not trying to trick people by emulating other artists. "Mostly people want to make their own work as you want to be able to stand by it. Although they are secret, the postcards are identifying you as an artist, they're a calling card of what you do and of course people will have the work in their home."
All the postcards will be available to see online as well as in person from 18 November but the event is still cheeringly old-fashioned in that you have to turn up on the day, Saturday 26 November this year, and it is a first-come-first-served queue, no sealed bids or reservations permitted.
Each card costs £45 and buyers are limited to four. Bunn said there were normally diehards who began camping three or four days before. "It is kind of crazy – in November. There are also some people who go to the pub on Friday night and end up queuing afterwards. And a lot of people come at say 5am and it is a really nice event because they're all into the same thing.
"We haven't heard of any marriages but people do meet and become RCA Secret friends and when they come back they have reunions."
The event, sponsored by Stewarts Law LLP, always involves a mammoth cashing up process with more than £90,000 raised last year for fine arts student bursaries.
guardian.co.uk © Guardian News & Media Limited 2010
Published via the Guardian News Feed plugin for WordPress.
Categories
Tags