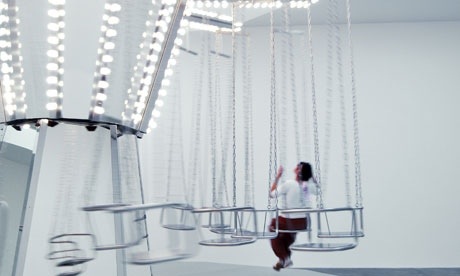 Carsten Höller's Mirror Carousel, 2005. Photograph: Attilio Maranzano Photograph: Attilio Maranzano
---
This article titled "Carsten Höller in New York: all the fun of the fair" was written by Charlotte Higgins, for theguardian.com on Tuesday 25th October 2011 17.29 UTC
The New Museum in New York has been transformed into a playground, albeit a playground run by a slightly bonkers scientist. This is the city's first survey show of the work of Belgian-born Carsten Höller, opening tomorrow.
Visitors to London's Tate Modern in 2006 will remember the helterskelters he installed as his Unilever commission for the museum's Turbine Hall. Now, New Yorkers can slide down from the top of the New Museum and land two floors down – grinning, startled and looking much less like cool downtown art kids than when they set forth on their whizzing, 102ft ride. (The experience of such sliding has been called "voluptuous panic", a description I like.)
Höller calls his slide an "alternative transportation system". Miuccia Prada has one – it takes her from her Milan office directly to her carpark.
The show is called Experience, and Höller's purpose is to distort, question and generally mess with your understanding of the body in space, and the environment around you. Here the artist's big hits are brought together.
Visitors are invited to strip (naked or to a swimsuit) and bob around in his Giant Psycho Tank (1999), a sensory deprivation pool. (Towels, robes and slippers provided.) There is a darkened room in which infrared cameras capture your image in triplicate, but with an unnerving time delay on one of the cameras. (Who is that woman who is adjusting her cardigan a fraction after me, as if in imitation? Oh…)
There is his Mirror Carousel (2005) – as the title suggests, a fullscale fairground carousel, but with mirrored surfaces. You sit on a little swing seat and watch the world move around you, endlessly refracted. It's dizzying, but not because of its gently circling motion of the ride.
A fish-filled aquarium (Aquarium, 1996) has benches installed beneath it, so that you lie down, look upwards, and watch the fish swimming by, right above you. There are Upside Down Goggles that you can put on and see the world turned on its head. And on it goes – love potions to smell; songbirds singing in cages as a living mobile; the flashing rays of 184 cold-cathode lights.
If this sounds light, and funny, and perfect for kids, it's true, it is all that, and do take the children. But there is something darker and stranger at the heart of this perception-distorting stuff. Höller turns his audience into the objects of quasi-scientific experiments – not an altogether comfortable position to be in, when you come to think of it.
Being asked to see the world in a different way is frightening, discomfiting. The experience that Höller offers is perplexing and disorienting. Lying down and looking at fish in an aquarium sounds hippyish and soothing, but, as you recline there with those flashing cold-cathode lights beaming into your retina over and over again, it's by no means the chillout you might imagine.
The clue, it seems to me, lies on the ground floor of the museum, before you ascend to the main galleries. Here, there is a series of giant sculptures of funghi – his Giant Triple Mushrooms (2010). Half of each sculpture replicates the look of random fungi; half, a very specific species: the large red-and-white fly agaric fungus, Amanita muscaria. A fungus with psychoactive, hallucinogenic properties, it was used, it is thought, by Siberian shamans as an intoxicant. The sculptures invite you to taste: but this is not an invitation to be accepted lightly. Exhilaration and joy may be on its way. Or the opposite.
guardian.co.uk © Guardian News & Media Limited 2010
Published via the Guardian News Feed plugin for WordPress.
Categories
Tags