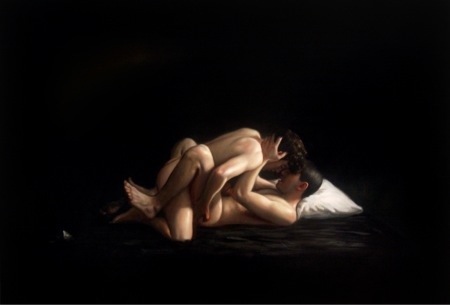 New York based artist TM Davy's first German solo exhibition, entitled , Epithalamium opened at Exile in Berlin on Saturday. Its name refers to a form of poem, written specifically for a bride on the way to her marital chamber. Davy's classical-style paintings depict intimate scenes from his own marital chamber. In light of his recent marriage, he explores the idea of eternity, the accumulation of time and the slow and long relationship to the subject.
When I ask what the aim of these paintings is, he says: "To complicate, provoke, question, and bring honest experience to our existential visual language."
And they certainly do those things. A large piece entitled Missionary dominates the Front Space of the gallery. It shows the artist in the sexual position with his husband, Lee. On first impression, the work is disarming and intrusive. This, according to Davy, can become the potential means to a deeper understanding of it.
There is a noticeable lack of overt campness, often found in contemporary gay art, in these works. Davy does not intend to put himself in the position of voyeuristic power, but neither does he want to attract an indifferent viewer by painting a passive scene. In portraying himself as the bottom figure in Missionary, he fundamentally undermines this presumed role as the masculine painter.
"Depth and connection is lost in the simple fetishization of a subject," he says. "Like a marriage, the paintings should exist as a sort of complex give and take."
On the wall directly opposite hangs a painting of equal size, entitled Nude Husband. This may be no coincidence, as this portrait of Lee is intended to serve as a postlude to Missionary – le petit mort. The subject's eyes, which are uncommonly blue, gaze straight at the viewer in a knowing way, like "portals to some afterlife that may be the painting itself." In the foreground are two small yucca plants, growing in the same pot – another reminder of the beauty of two living things growing together side by side.
In fact, the double potted palms are a regular occurence in these pieces and have significant sentimental value. They were bought when Davy and his now-husband first moved in together 6 years ago. Aside from their conceptual and personal value, they create a presence that seems to exist in the slow time of painting. They also "add an element of placement and displacement, somewhere between our Brooklyn window and some timeless paradise," Davy comments.
Nature is important to the artist. "It is both a mysterious force and the subject of our domestication, a sort of mirror to our own taming," he says. This is perhaps best expressed through Morning Fence in the Second Space of the gallery, which shows an outdoor plant, climbing a trellis against a wall. It is free and tame at the same time.
The paintings are deeply personal to Davy and communicate with each other on different levels. Yet they also demand each viewer's own reaction, as it is their own state of privacy, exposure and voyeurism that becomes central.
TM Davy's Epithalamium can be viewed at Exile gallery, Berlin, until November 12th 2011.
thesisexile.com/
Anna Anderson
About Mark Westall