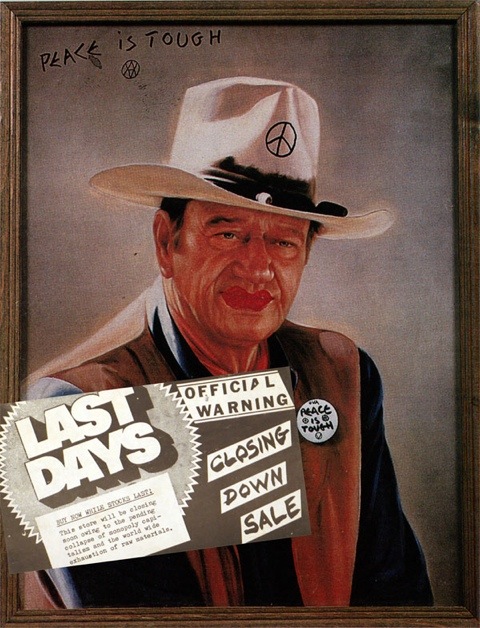 27th Oct – 20th Nov 2011
Bear Pit Park Street London SE1 27th October – 20th November 2011
Isis Gallery and Merge Festival are extremely pleased to announce the opening of Jamie Reid -'Peace Is Tough'.
Hot on the heels of Reid's wonderful Ragged Kingdom installation for Isis Gallery at Londonewcastle Depot in June, Peace Is Tough revolves around two polarities – one being principal elements of the Jamie Reid Archive which has recently been exhibited at the CCBB in Rio and MoCA in Los Angeles. The second being a presentation of the 365 paintings that comprise the core of Reid's expansive and delightful Eightfold Year project.
Peace Is Tough will be installed in a very raw space behind Tate Modern. Entry is at your own risk.
Reid's Archive spans the decades, from college plotting through punk to protest graphics. This presentation includes original collage work, drawings and paintings, bromides, proof prints and photographs. Elements of the archive are present in extremely important international collections, including that of Tate, acknowledging Reid's importance in the narrative of 20th and 21st century culture.
The 365 small gouache paintings (each a uniform 100 x147mm) that compromise the core of Reid's Eightfold Year project represent an exposure of an intensely private endeavour. Reid's daily painting practice has flourished in the last ten years. October 31st 2011 will also be the first day of the second year cycle for an online project which offers a daily painting, festival dates, moon phases and wild flower information that changes daily, through the cycle of solstice and equinox.
Jamie Reid's unique vision articulates and gives form to some of the key issues of our times. He responds to the ever-increasing attacks on our civil liberties and shared common spaces with passionate anger and savage humour, and shows us ways in which we might re-organise our political and spiritual resources. This is the role of the shaman and Reid's art acts like a lightning rod, returning us to the earth so that we might share the work of healing.
Isis Gallery would like to thank Illuminate Productions, Merge Festival and its sponsors -Tate Modern, Better Bankside, The Denis Rosen Memorial Trust, Land Securities, Bankside Mix, Commercial Art and the London School of Economics.
Categories
Tags