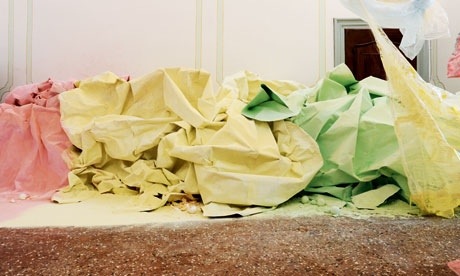 At Fault (detail), by Karla Black. Photograph: Gautier Deblonde
---
This article titled "This week's new exhibitions" was written by Robert Clark & Skye Sherwin, for The Guardian on Friday 21st October 2011 23.05 UTC
Turner Prize 2011, Gateshead
For the first ever time at a non-Tate gallery, the Turner jamboree comes to Gateshead. This year the four contenders are Karla Black, Martin Boyce, Hilary Lloyd and George Shaw, which means one video installation artist, two installation sculptors and one painter of proper pictures. They present pieces of thematic restraint and compositional subtlety. Lloyd and Shaw's work – which, in terms of media, offer an instructive contrast – presents two attempts to come to creative terms with the banalities of our everyday urban environments. Lloyd projects multiple videos of routine goings-on that are afforded some kind of oblique significance by the very fact that she chooses to stage them with such a deceptively cool assurance. Shaw – being the maverick painter in the pack, and a popular favourite – will surely win the big prize, though, with his views of nowhere places, meticulously and perversely rendered in the unwieldy and super low-tech medium of model aeroplane kit makers' Humbrol enamels.
BALTIC, to 8 Jan
Robert Clark
Private Eye, London
Private Eye really is an old boy: the satirical staple of British journalism turned 50 this year. Its cartoons are as famous as the political intrigue and media lampooning that have made the magazine a thorny proposition for the establishment. This show has work by some of Private Eye's sharpest caricaturists, including the magazine's co-founder, Willie Rushton; Gerald Scarfe, who created the artwork and puppet designs for Pink Floyd's The Wall; and Ralph Steadman, gonzo illustrator of Hunter S Thompson's Fear And Loathing In Las Vegas. Further guffaws come from Private Eye's speech-bubble covers, which chart the magazine's evolution.
Victoria & Albert Museum, SW7, to 8 Jan
Skye Sherwin
The Wonders Of The Visible World, Sunderland
This fascinating exhibition, charting – not entirely without irony – numerous photo and video efforts to picture the ineffable, the invisible, the beyond, reflects an increasing artworld interest in work that attempts to transcend the sober-minded, self-conscious confines of academic cultural theory. The figure of Death in Anton Corbijn's photograph of a baroque gravestone grins with self-confident glee in his all-powerful authority. Other subjects range through dangerously wayward sleepwalkers, a levitating Swiss abbey, a Home Counties holiday camp's secret cult, Ulla von Brandenburg's ghosts, and a landscape made up of smoke and mirrors.
Northern Gallery For Contemporary Art, Thu to 4 Feb
Robert Clark
William Morris, London
William Morris the storyteller is the focus of this show housed in a neo-gothic mansion-turned-art venue. Norse sagas, Chaucer's Tales, Greek myths and Arthurian legend weave through his exquisite tapestries and pre-Raphaelite paintings. Today, the Victorian writer and pattern designer's memory is kept alive by pricey fabric prints. Yet Morris, a leading member of one of Britain's first socialist parties, made textiles truly radical. It was the holistic experience of medieval crafts he strove for, railing against the grim production lines of his own era. His favourite subjects might have been knights, dragons and ornate patterns but he was looking back to go forward.
Two Temple Place, WC2, Thu to 29 Jan
SS
Klaus Weber, Nottingham
A weirdly disparate series of installations by this renowned Berlin-based artist: Weber sets the scene by fixing a sun-driven contraption to the roof which will "print" a gallery copy of JK Huysman's Against Nature. In turn, the gallery's window is fitted with giant windscreen wipers to sweep away a continuous downpour of "rain" (inverted commas seem necessary to any description of Weber's wonderfully artificial sculptural conceits). To add to the thematic diversity, Weber has curated an accompanying display of artefact curiosities including an armadillo skeleton and works by the likes of William Hogarth. He seems, persuasively, to be presenting himself as art's half-serious cultural alchemist.
Nottingham Contemporary, to 8 Jan
RC
The Indiscipline Of Painting, St Ives
This show follows the zigzagging path taken by abstract painters over the past 50 years. As 49 artists demonstrate, abstraction has been fraught with pitfalls since its glory days: all that navel-gazing and, in America, gestural self-expression was looking hokey come the 1960s. In answer to this, we get Bridget Riley's eye-dazzling optics; Andy Warhol's Eggs, his teasingly banal pop riposte to abstract expressionism; and Gerhard Richter's flat grey squares. Meanwhile, Turner Prize-winner Tomma Abts's quiet little canvases turn worn-out geometries into something strangely new.
Tate St Ives, to 3 Jan
SS
Richard Long, Kendal
Kendal provides an ideal temporary setting for this small but representative selection of works on loan from the Anthony d'Offay Artist Rooms' bequest by a sculptor who has gained international recognition turning country rambling into a fine art. Like the rest of us, Long takes off on treks and gets all elevated by direct experience of the wind and rain of mountainous wild lands. Also like the rest of us, such adventures are occasionally afforded extra poignancy these days by our shared ecological concern. What distinguishes Long as an artist, however, is his immaculate compositional presentation of a cool conceptual perspective on subjects which could all too easily fall off into pseudo-Romantic sentimentality. He avoids the indulgences of so many of his back-to-nature contemporaries who tend to tame down nature's otherness into cliched organic pleasantries.
Abbot Hall Art Gallery, to 17 Dec
RC
Edward Burra, Chichester
Edward Burra's home might have been the cosily cobbled East Sussex town of Rye but his art is anything but quaint. This friend and neighbour of Paul Nash made modernist paintings that ran hot. Sailors in dockside watering holes, Harlem strip joints, lorries and motorbikes were his kind of subjects. His paintings are vital, crowded with detail, their urban men and women flattened and cartoonish in a gaudy palette. Yet Burra remains something of a footnote in art history. This survey of his paintings and theatre designs should redress the balance.
Pallant House Gallery, to 19 Feb
SS
guardian.co.uk © Guardian News & Media Limited 2010
Published via the Guardian News Feed plugin for WordPress.
Categories
Tags