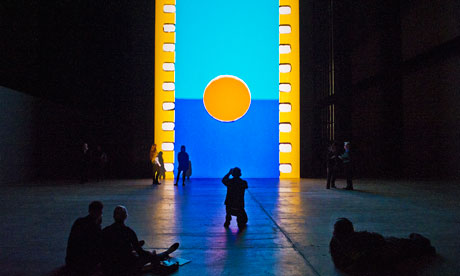 Image:Classically English … Tacita Dean's Film in Tate Modern's Turbine Hall. Photograph: Sarah Lee for the Guardian
This article titled "Tacita Dean and the quirky art of being English" was written by Jonathan Jones, for theguardian.com on Wednesday 19th October 2011 14.59 UTC
Tacita Dean is a very English artist, I thought as I watched black and white waves, a sea of mist, and a fountain flicker in and out of her superb film in the Tate Turbine Hall. The atmosphere of film, as stuff, as celluloid, that it creates made me think of classic English films like Night Mail or Fires Were Started. Also, of the first work I ever saw by Dean.
This was called Foley Artist, and it portrayed the artists, or artisans, who use cardboard and pebbles to create sound effects for cinema. This earlier work, which I saw in the Art Now room at Tate Britain and reviewed for a magazine, commemorated a cottage industry, a folk art, of cinema. It too seemed very English, and I can remember that in the review I quoted François Truffaut on why the weather makes England and cinema incompatible.
As you can see I am repeatedly using the word English, rather than British. It is intentional. I really do mean the quirky, personal, intense and romantic art of Tacita Dean seems very English. It does not seem Welsh (by the way, I am Welsh). And the truth is that in describing culture it often makes more sense to say English than British.
It would seem curiously clumsy to call Jane Austen a British writer. Is anything more specifically English than the world she evokes? In just the same way we could call Dylan Thomas a British poet but this would mean much less than calling him Welsh.
I am speaking up for Englishness here. It does exist in art. A landscape painting by Gainsborough is vividly English. The landscapes of the Welsh painter Thomas Jones are very different – Jones, unlike Gainsborough, was drawn to travel abroad, but also painted Welsh hillsides. Similarly, the history that gives Walter Scott's novels their theme is not the same as the one that animates Dickens.
With some artists it does not matter. Blake is British. So is Damien Hirst. They rise above local peculiarities. But it's a shame that Wales and Scotland are allowed to claim a cultural voice while English artists and writers are ritually termed British. It does not make them any more accessible to non-English readers and beholders. It just makes them a bit less themselves, and so a bit less compelling.
guardian.co.uk © Guardian News & Media Limited 2010
Published via the Guardian News Feed plugin for WordPress.
Categories
Tags