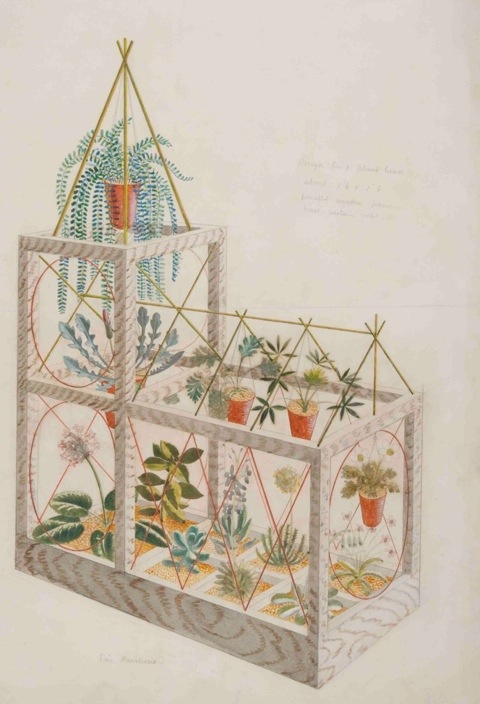 The Fine Art Society presents a new exhibition, The Strawberry Thief ( through to 28th October). Selected by Turner Prize winner Jeremy Deller, the exhibition is compiled of works by eight contemporary artists alongside the work of artists who have inspired and influenced them.
Situated in the centre of the ground floor gallery is the realised creation of the design for a Plant House by Eric Ravilious. A surreal creation perhaps, but it acts as the perfect introduction to the unusual and somewhat confusing exhibition that exists beyond the Plant House walls.
The collection consists of work from Tasha Amini, Steven Claydon, Peter Doig, Stephen Fowler, Ed Hall, Paul Noble, Chris Ofili and Nick Pankhurst. The contemporary selection is punctuated by the work of Edward Burra, Morris & Co. , Eduardo Paolozzi and Walter Sickert to name a few. Finding a common thread here is deliberately difficult. The Strawberry Thief is intended to be enigmatic and unique in its eclecticism. The underlying question here is what it is for art to be considered as new when all art, at some point, is just that.
This is not so much strawberry thieving as it is cherry-picking. Deller and the contemporary artists he has collaborated with have created a rare exhibition that pushes and pulls the spectator through different ideas, across decades and in and out of artistic mindsets. Whether you need to beg, borrow or steal, The Strawberry Thief is an opportunity not to be missed.
About Mark Westall