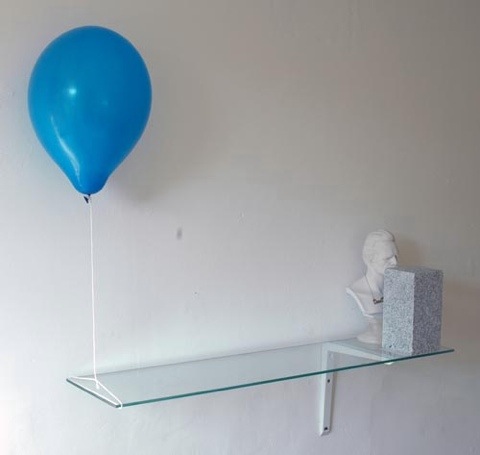 Open until Saturday 15 October 2011
A group exhibition by Vanessa Billy, Alice Browne, Lucy Clout, Sean Edwards, Matt Golden, The Hut Project, Matthew Richardson, Matthew Smith, Jack Strange, Santo Tolone, and Yonatan Vinitsky.
Last year Limoncello curated an exhibition 'Limoncello Yellow' at The Bakery, Annet Gelink Gallery, Amsterdam. Contrary to the title it was an exhibition of all of the green works in the gallery inventory. Limoncello had a green facia in the first space on Hoxton Street and it continues to feel green in many ways, despite the alcoholic namesake's yellow colour.
A year on, and the colour wheel turns to 'Limoncello Green' an exhibition of all the blue works in the gallery inventory 'Limoncello Green' takes the place of Sean Edwards' solo exhibition 'Putting Right', deinstalled from the gallery and reinstalled (crammed into) SUNDAY Art Fair. 'Limoncello Green' is the art fair booth displaced to the gallery.
The exhibition 'Putting Right' by Sean Edwards temporarily moved to SUNDAY Art Fair will return on Thursday 20 October and continue until Saturday 12 November 2011. The forthcoming exhibition by Alice Browne will open Thursday 24 November-Saturday 14th January 2012.
*Image Credit: The Hut Project, 'Wot No Ventriloquist', 2011, Bust of Friedrich Nietzche in White Bonded Marble with Marble Base, 18ct Gold 'Dead Duchamp' Necklace, Found Kerb Stone, Stolen Glass Shelf, Blue Helium Balloon,
Categories
Tags