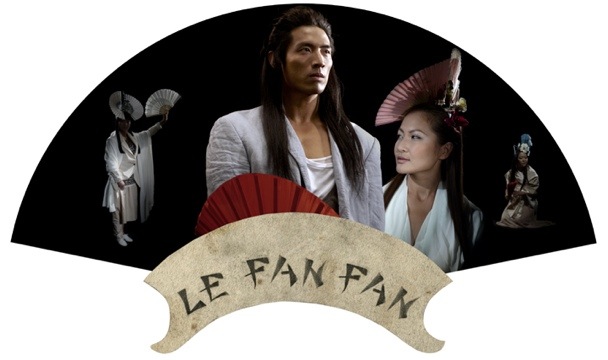 Dates: 8th October to November 2011
Sarah Baker's debut show, 'Le Fan Fan.' Her latest idée fixe with fans has led to frequent private viewings of fans in The Fan Museum archive, specifically Oriental pictorial fans of the 17th-19th centuries. These fans, which were once desperately sought after status symbols, often feature hand painted figures carefully placed along the fan leaf. Influenced by these compositions and inspired by the tradition of adorning fan leaves with classical mythological subjects, Baker creates a monument of a fan by projecting onto an immense sculptural fan a vignette of a Chinese legend in a spinning, flipping, and folding world of fans.
Inspired by a 1980's Chinese Soap Opera, Baker has assembled a cast and crew to reinterpret Wuxia legend, Chu Liu Xiang, a mythical gentleman who is infamous for both his irresistible good looks and his ability to dispatch enemies with his folding hand fan. As in her previous endeavors, Baker makes it a point to actively involve collaborators into the making of 'Le Fan Fan.' Baker collaborates with actors, sound composers, a milliner, a cinematographer, a kabuki dancer, and a Tai Chi master who is also a film choreographer, to name a few. Notably is French fan maker Sylvain Le Guen, resulting in a collaboration involving an origami fan that plays an important role in Baker's video tableau vivant.
Over the past decade Baker has assembled obscure subjects, characters and personalities that form an unlikely amalgamation which she has showcased, interviewed, appropriated, and obsessed over. Her subjects are often lionized and made to look as if they stepped out of a glossy fashion magazine, resulting in unstable positioning within a fantasy landscape of the extraordinary.
The question arises as to the nature of a legend' -Hélène Alexander, from 'Ancient Myths and Legends' The Fan Museum, London
CARTER presents | 59 Old Bethnal Green Road | info@carterpresents.org
Categories
Tags