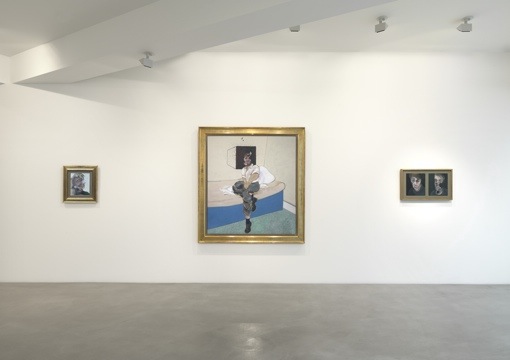 Image:Irrational Marks: Bacon & Rembrandt. Copyright Mike Bruce.
Irrational Marks: Bacon and Rembrandt 7th October – 16th December 2011
Pilar Ordovas can rightly call herself something of a Francis Bacon expert, having been responsible for the auction in 2008 of Triptych (1974 – 1977), for a record-breaking £26million, the highest selling piece ever auctioned at the London branch of Christie's. This forms part of an impressive thirteen years under her belt at the auction house, including another huge sale, Lucian Freud's Benefits Supervisor Sleeping, (£21 million). From Christie's Pilar directed Gagosian London for two years, before leaving in March 2011 with the intention of starting her own gallery.
After seven months of building and preparation the gallery itself forms an impeccably chic addition to Savile Row, in keeping with its behemoth neighbour Hauser + Wirth, whose current Roni Horn exhibition seems a suitably introspective companion for Bacon's self-portraits, Roni's own face in You Are The Weather peering out of the window in duplicate as we cross the road.
It has been a while since I last attended an 'inspiration' exhibition – one which charts the influence of one artist over another. I always find them historically interesting, but great care must be taken curatorially to ensure nothing looks contrived. A very well-curated show can be satisfyingly enlightening. This isn't a Tate-sized space but Ordovas makes the best use of her gallery to provide just enough bite-sized learning.
Bacon Rembrandt starts with two central images; the first is Irving Penn's Francis Bacon, a photograph of Bacon in front of a poster of Rembrandt's Self-portrait with Beret (Francis Bacon often talked about being influenced by Rembrandt and a number of source images like this were found in his studio), and the second, a coup for a commercial gallery and testament to Pilar's art world connections; the original Rembrandt Self-portrait with Beret from the shot. Ordovas came across the first image in 2006 while handling the estate of Valerie Beeston, who managed Francis Bacon at Malborough Gallery, and a seed was planted.
It is a simple comparison but a very pleasing one; Ordovas surrounds Rembrandt's face with six of Bacon's Studies for Self-Portraits, symmetrically arranged either side instantly highlighting similarities of technique; the muted colours, the wide, sweeping brushstrokes, the darkness and shading. Rembrandt produced a huge number of self-portraits: at least thirty that are known about, the aim being a true likeness, which became a lifetime's work. Bacon's self-portraits manipulated the face to imply inner turmoil, so there are more jagged edges, unfinished shapes and dissolved portions.
Downstairs we are shown source documents from Bacon's studio, and an interview with David Sylvester and Bacon from 1966, which plays on repeat but tonight is drowned by the chatter of the opening party. Ordovas herself warmly welcomes everyone and radiates a quiet pride at her inaugural (and non-commercial) exhibition here. Everything is well thought through and polished, whilst remaining open and accessible. I feel like I've come away with something – some of Ordovas's knowledge happily shared, and I'm looking forward to what Pilar does next.
Naomi Richmond-Swift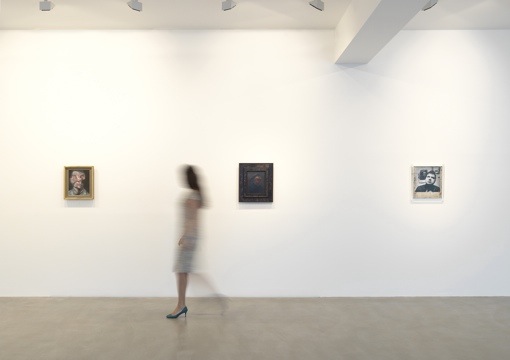 Image:Irrational Marks: Bacon & Rembrandt. Copyright Mike Bruce.
Categories
Tags