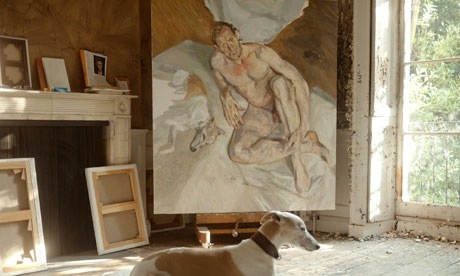 ---
This article titled "Lucian Freud's final work to be shown in 2012 National Portrait Gallery show" was written by Mark Brown, arts correspondent, for The Guardian on Tuesday 20th September 2011 17.17 UTC
Lucian Freud's final work – an enormous and unfinished nude portrait of his assistant and close friend, David Dawson, with Dawson's whippet, Eli – will be shown for the first time next year.
It will feature prominently in a major 2012 exhibition covering seven decades of the artist's probing, distinctive portraiture.
The National Portrait Gallery on Tuesday revealed details of what will be a blockbuster, with more than 100 works filling most of the ground floor gallery space. The exhibition, the first major show to focus on Freud's portrait work, had been planned in close partnership with the artist, who died aged 88 in July.
His final work was, said curator Sarah Howgate, "a commanding and affectionate" portrait of a man who had been the artist's assistant for 20 years.
It shows a naked Dawson looking up, with his dog relaxing nearby. It had been known by Freud as both Davidscape and Portrait of the Hound, with the latter winning out.
Howgate recalled having breakfast with Freud three weeks before his death and hearing how excited he was by the picture.
"Never has Freud's phrase, 'a human is an animal with his clothes off,' seemed more relevant," she said.
"Freud said that he knew Dawson better than anyone else. He'd been his most consistent model, they shared a mutual understanding, a respect for one another and a love of painting."
Sandy Nairne, director of the NPG, said he went to see Freud soon after London won the Olympics and put the idea of a big 2012 portraiture show to him. "He responded extremely warmly and positively to that proposition," he said.
The show will include works that have become familiar for a variety of reasons.
Benefits Supervisor Sleeping, for example, became known for excess – setting a world record auction price of m (£22m) when it sold to Roman Abramovich in 2008.
It will be in the show along with three other depictions of the sitter, Sue Tilley – or "Big Sue".
Through his career, Freud befriended and painted an enormous cast of characters – from the aristocracy to the criminal underworld to the world of celebrity.
Sitters represented in the show will include the performance artist Leigh Bowery and fellow painters such as David Hockney, Frank Auerbach and Francis Bacon.
Howgate said the exhibition was not aiming to be a biography. It would be, she said, "a life represented in paint, rather than a biographical retrospective".
But it will inevitably illuminate corners of the artist's fascinating existence, not least his complicated love life – he had numerous relationships resulting in 12, 13, 14 or 40 children, depending on which account of his life you read.
The show will include four "psychologically charged" portraits of his first wife Kitty Garman, the daughter of sculptor Jacob Epstein.
In one, Girl with Roses, a pregnant Garman is seen sitting holding a winter rose. It is a tender, forensic painting and very different to one of her painted two years later called Girl with a White Dog, in which the "atmosphere appears to be less comfortable". They separated a few weeks later.
A year on, Freud painted his second wife, the very young looking Caroline Blackwood, "in all her wide-eyed innocence".
By 1958 he was painting his pupil Suzy Boyt – later mother of five of his children – who became one of the few sitters to smile during what could be long and gruelling sessions.
There will be plenty of nudes in the show, old and young, slim and big.
Howgate said of one, a very direct portrait of a naked girl, that comparisons could be drawn with Gustave Courbet's L'Origine du Monde, an 1866 closeup of a woman's genitals that proved so controversial it was not exhibited until 1988. "Perhaps, although painted 40 years ago, Naked Girl still has the power to shock in 2011."
There will also be examples of his more private paintings, including a portrait of his friend and riding companion Andrew Parker-Bowles – a very informal portrait of a man in formal household cavalry brigadier uniform.
Freud makes no concessions for friendship – Parker-Bowles's flabby paunch is bursting out and he has a mournful, vulnerable look which "contrasts with the outward splendour of the costume and medals". It is, said Howgate, "a reflection on the ageing military man".
One of the real coups for the show is a work from 1981-83, Large Interior, W11 (after Watteau), which has not been seen in the UK since the last big Freud show, at Tate Britain in 2002.
It is a big painting of five people – including Boyt and Freud's daughter Bella – executed in spite of a stiff painting arm. "It was the fear that he might never be able to paint on this scale again that drove him on," said Howgate.
• Lucian Freud Portraits will be at the NPG from 9 February to 27 May 2012
guardian.co.uk © Guardian News & Media Limited 2010
Published via the Guardian News Feed plugin for WordPress.
Categories
Tags