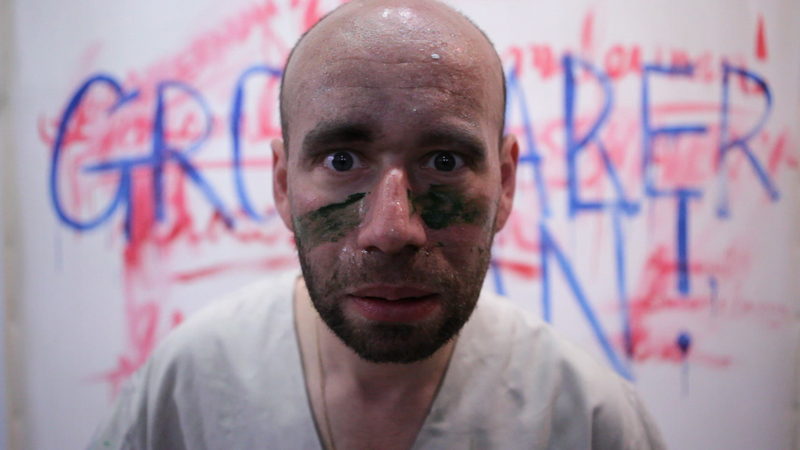 Image:Guy Richards Smit, 'Grossmalerman' Still 1, HD Video, Courtesy of The Artist
Ireland's largest-ever art exhibition, Dublin Contemporary, will turn the Irish capital into a vibrant art gallery from September 6th to October 31st 2011.
 
One of the most ambitious art exhibitions ever staged in Ireland, Dublin Contemporary will present work by over 90 international and Irish artists at multiple locations in the dynamic, historic capital of Dublin including the National Gallery of Ireland, Dublin City Gallery The Hugh Lane and the Royal Hibernian Academy.
SEE The Artists HERE
 
In response to the theme Terrible Beauty—Art, Crisis, Change & The Office of Non-Compliance, the carefully selected presentation of work aims to investigate and reflect on emerging developments in contemporary art. The exhibition title is taken from William Butler Yeats' famous poem, Easter, 1916, reflecting art's potential for comment on key historic political and economic events and times.
 
Presenting politically and socially motivated works from local, national and international figures, new and recent works will be exhibited from artists including Willie Doherty, Dexter Dalwood, Jim Lambie, Thomas Hirschhorn and Teresa Margolles.  Dublin Contemporary is curated by New York?based curator and writer, Christian Viveros?Fauné, and Franco?Peruvian artist and curator, Jota Castro.
 
In announcing the programme Jimmy Deenihan TD., Minister for Arts, Heritage and the Gaeltacht said: "This autumn, Dublin Contemporary 2011 will greatly enhance Ireland?s reputation as an important cultural destination and will attract a large international and domestic audience. Ireland needs the arts to lead the way in innovative thinking and Dublin Contemporary 2011 is to the forefront in this area."
 
Dublin Contemporary's central exhibition will be presented at the vast 18th century Victorian building and former University site, Earlsfort Terrace, as well as at some of the city?s best known landmarks including, the Iveagh Gardens, the Douglas Hyde Gallery, the National Gallery of Ireland, Dublin City Gallery The Hugh Lane and the Royal Hibernian Academy.
 
A key aim of the exhibition is to ensure that it is highly accessible to all fractions of the general public and, as a result, there will be an abundance of ground-breaking events and workshops for a range of groups including families, schools of all levels, the hearing and visually impaired as well as those with special needs.
About Mark Westall