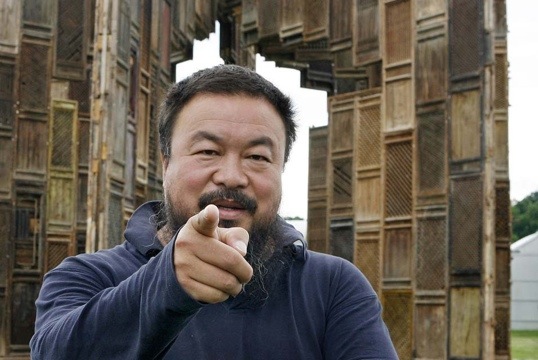 Dissident Chinese artist Ai Weiwei has launched his first scathing attack on the Chinese government since his release from secretive detention in late June, accusing officials of denying citizens their basic rights.
In a strongly worded commentary published late on Sunday on the website of Newsweek magazine, Ai — whose detention sparked an international outcry — said the capital Beijing was "a city of violence."
He criticized the government for rampant corruption, the judicial system and its policy on migrant workers — issues that have inflamed social tensions in China.
Ai's commentary signals his growing impatience with the strict terms of his release from custody in late June after 81 days. It also presents Beijing with a direct challenge on how to handle the country's most famous social critic.
"Every year millions come to Beijing to build its bridges, roads, and houses…. They are Beijing's slaves," Ai wrote. "They squat in illegal structures, which Beijing destroys as it keeps expanding. Who owns houses? Those who belong to the government, the coal bosses, the heads of big enterprises. They come to Beijing to give gifts — and the restaurants and karaoke parlors and saunas are very rich as a result."
Under the conditions of Ai's release, he is not allowed to be interviewed by journalists, meet foreigners, use the Internet or interact with rights advocates for a year, a source familiar with the events of Ai's detention told Reuters.
Despite this, the burly artist with flecks of grey in his beard has spoken out on his Twitter account on behalf of detained dissidents and his associates who were held during the time that he was and have since been released.
"… Beijing tells foreigners that they can understand the city… Officials who wear a suit and tie like you say we are the same and we can do business," he wrote in Newsweek. "But they deny us basic rights."
When contacted by Reuters on Monday, Ai confirmed that he had written the commentary, saying that it was one that is based on his impressions of living in Beijing, adding he did not know what the consequences, if any, would be.
He declined to elaborate, saying he was still restricted from speaking to journalists under the terms of his release.
The 54-year-old artist endured intense psychological pressure during secretive detention and still faces the threat of prison for alleged subversion, according to the source familiar with his detention.
In the commentary, Ai alluded to his time in detention, saying "the worst thing about Beijing is that you can never trust the judicial system."
"My ordeal made me understand that on this fabric, there are many hidden spots where they put people without identity," Ai wrote. "Only your family is crying out that you're missing. But you can't get answers from the street communities or officials, or even at the highest levels, the court or the police or the head of the nation.
"My wife has been writing these kinds of petitions every day (while he was in custody), making phone calls to the police station every day. Where is my husband? Just tell me where my husband is. There is no paper, no information."
Ai's detention ignited an outcry from many Western governments about China's tightening grip on dissent that started in February, when dozens of rights activists and dissidents were detained and arrested.
The artist, famed for his work on the "Bird's Nest" Olympic Stadium in Beijing, was the most internationally well-known of those detained, and his family has repeatedly said he was targeted by authorities for his outspoken criticism of censorship and Communist Party controls.
When Ai was released on bail, the Chinese government said he remained under investigation for suspicion of economic crimes, including tax evasion. Ai told Reuters earlier that he had not received a formal notice from the authorities to explain the allegation of suspected economic crimes.
In the Newsweek article, Ai wrote that none of his art represents Beijing.
"The Bird's Nest — I never think about it," he wrote. "After the Olympics, the common folks don't talk about it because the Olympics did not bring joy to the people."
He wrote about the "secretive way" people came up to him in a park last week, giving him a thumbs up or patting him on the shoulder.
"No one is willing to speak out. What are they waiting for? They always tell me, 'Weiwei, leave the nation, please.' Or 'Live longer and watch them die,'" Ai wrote.
He previously had said he would never emigrate, but the latest article left that in question.
"Either leave, or be patient and watch how they die," he wrote. "I really don't know what I'm going to do." Via:[ArtDaily.com]
Categories
Tags