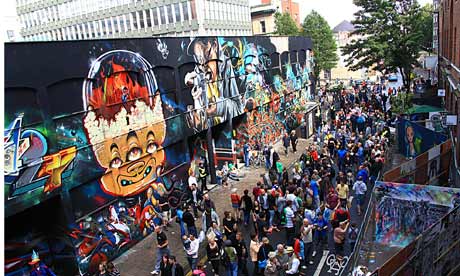 Image:Writing's on the wall … graffiti, such as at Bristol's street art project See No Evil (pictured), has gone tragically mainstream

---
This article titled "Street art is dying – and it's our fault" was written by Jonathan Jones, for theguardian.com on Thursday 25th August 2011 15.04 UTC
Street art is so much part of the establishment that when David Cameron spoke about this summer's riots, he was photographed in front of a bright and bulbous Oxfordshire graffiti painting. Contradiction? Of course not. The efforts of Banksy and all the would-be Banksys have so deeply inscribed the "coolness" of street art into the middle-class mind that it is now as respectable as the Proms, and enjoyed by the same crowd – who can now take a picnic basket down to watch a painting marathon under the railway arches.
No wonde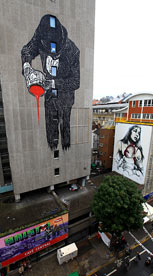 r an event described as "the UK's biggest street art project" (60 artists from all over the world decorating Nelson Street in Bristol last week) went down fairly quietly in the national press. It's not that new or surprising any more, let alone controversial. Nowadays, doing a bit of street art is as routine as checking your emails. There's probably an app for it.
Visitors to London buy Banksy prints on canvas from street stalls, while in Tripoli photographers latch on to any bloke with a spray can near any wall that's still standing. Graffiti and street art have become instant – and slightly lazy – icons of everything our culture lauds, from youth to rebellion to making a fast buck from art.
Is this how street art will die – not with a bang, but with a whimper? Maybe there was a time when painting a wittily satirical or cheekily rude picture or comment on a wall was genuinely disruptive and shocking. That time is gone. Councils still do their bit to keep street art alive by occasionally obliterating it, and so confirming that it has edge. But basically it has been absorbed so deep into the mainstream that old folk who once railed at graffiti in their town are now more likely to have a Banksy book on their shelves than a collection of Giles cartoons.
I find 90% of this art form to be boring, banal and unimaginative. Images far too ordinary to be exhibited in art galleries are admired because they are on the street. Then dealers and curators collect them as masterpieces of street art and they do enter the gallery after all, without being any more interesting than they were to begin with.
Meanwhile, young people find their culture has been stolen by the middle-aged and old. Punk? Fifty-year-olds were there. Facebook? Fortysomethings are all over it. Street art? The prime minster is so down with that. At least young people can still shock their elders by attacking the Cenotaph or looting shops – until those activities, too, become fashionable in polite society. I await Grayson Perry's looting bag (convenient for carrying electrical goods, and ecologically responsible) with interest.
guardian.co.uk © Guardian News & Media Limited 2010
Published via the Guardian News Feed plugin for WordPress.
Categories
Tags