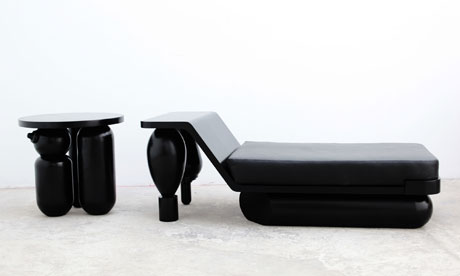 Image:Mammy Table and Negress Chaise by Simon Brewster

---
This article titled "RCA Black and the table that thinks it's a woman" was written by Hannah Pool, for The Guardian on Tuesday 23rd August 2011 20.59 UTC
When Ekua McMorris received her letter of acceptance from the Royal College of Art in 2007, she was intimidated by the thought of attending such a pillar of the establishment. How, she wondered, was "someone like her" going to fit in? "I was brought up as a Rastafarian, which is anti-imperialism. And here I am, a single parent living in Hackney with no money, about to attend the Royal College of Art."
Fast forward to the present and McMorris, now a photographer, is the co-curator of RCA Black, an exhibition celebrating the work of African and African-Caribbean artists. "There have only been 85 black students at the RCA in the last five years," she says. "That's out of a body of over 800 per year. We wanted to showcase these hidden people." Each artist had to be either an RCA student or graduate, of African or African-Caribbean heritage, and producing work of a high standard. "It didn't have to be new work," says McMorris. "It just had to be good."
The term RCA Black refers to the artists rather than their subject matter: the work doesn't have to speak of race, skin colour or ethnicity. "It could just be work," says McMorris. "Not every black person is making work about blackness."
RCA Black is not just about celebrating hidden talent, though: it's also meant to send a message to any students who might think the RCA is a "whites only" place.
The exhibition, which includes work by 23 artists, features everything from fine art, photography and sculpture to product design, jewellery and metal work. Catherine Anyango, a Swedish-Kenyan artist and RCA tutor, is showing the original illustrations from her 2010 graphic novel version of Joseph Conrad's Heart of Darkness. Written with David Zane Mairowitz, it was described as "extraordinarily beautiful" by Rachel Cooke in the Observer. "I don't have any other work to do with being black," says Anyango. "I grew up in Kenya, so I have a different perspective from people who grew up here."
On a lighter note, work by contemporary artist Harold Offeh is also included: Hairography, a photographic self-portrait, shows him in blond wig and red lipstick, whipping his hair about. And, as well as a painting by Chris Ofili, there will be two beautiful pieces of furniture by Simone Brewster: Negress Lounge and Mammy Table. Made from stained tulip wood, the pieces are a far cry from the sort of thing you would find in the average living room. "I wanted to ask: what if you have furniture inspired by the black female form?" says Brewster. "I looked at representations of the black female form in art, particularly Wilfredo Lam's The Murmur, which is a disturbing picture of a woman with lopsided breasts."
Brewster, the other co-curator, says of the show's concept: "We're not the same. But we are a group of individuals who have gone through similar experiences, gone through the same institute."
But is there such a thing as black art? Isn't it a rather reductive, limiting notion? "I tend to shy away from things that ask me to exhibit because I'm black and because I'm a woman," says Anyango. "I don't feel either is an achievement. But in the context of the RCA and the design world, they are both very white, so I understand the reasoning for this show."
The term "black art" is only reductive if you choose to see it as such, says McMorris. "Black art can be anything. It can be a landscape without any reference to colour or culture."
The curators agree the concept can be problematic, though. "We never refer to art as white art," says Brewster. "It is just art. Why would it need to be known as something else? I wouldn't imagine the processes I would go through would be any different if I were a white artist. Only my references would change."
Frank Bowling, whose painting The Abortion features in the show, is more direct. "There's no such thing as black art," says Bowling, who was the first black artist to be elected a member of the Royal Academy of Arts in 2005. "Black faces don't make black art."
Asked what advice he has for aspiring black artists, Bowling, now in his 70s, says: "Go to the museums and make art that can measure up to the museums. Make art better than anything you've ever seen before."
guardian.co.uk © Guardian News & Media Limited 2010
Published via the Guardian News Feed plugin for WordPress.
Categories
Tags