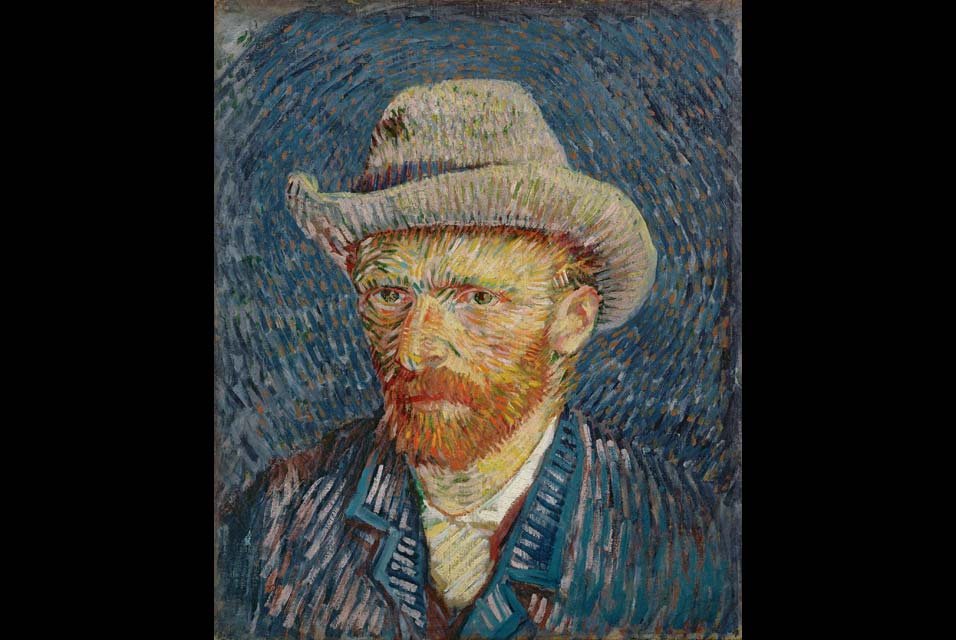 Image:Vincent van Gogh (1853–1890), Self-portrait With Felt Hat, 1888, Oil on canvas, 44 x 37.5 cm. Van Gogh Museum Amsterdam (Vincent van Gogh Foundation).
Every month during the Gallery's bicentenary celebration year a spectacular masterpiece will hang on the end wall of the Gallery's enfilade.
Van Gogh painted this self-portrait in Paris, in the winter of 1887-1888. It reflects that city's influence in its adaption of Pointillism, the use of small dots of pure colour to create an optical illusion of light. The technique had been quite recently developed by Georges Seurat in 1886. However, Van Gogh was never a slavish follower of other peoples' theories, though a passionate developer of his own. While clearly interested in the colouristic effects that Pointillism enabled, Van Gogh liked his colours to shine to their maximum intensity – he uses not dots, but slabs of colour, and lays them out with a sense of direction to increase the sense of three dimensions. But, more than that, he does something very dramatic with the brushstrokes round his head; they radiate outwards from his head with an almost throbbing effect. This outward movement and rhythm intensify the glaring focus of his state to achieve an almost palpable sense of concentration. The canvas almost seems to vibrate with the force of his personality; and that is why this is one of the most gripping of all his self-portraits.
On 4 August 1873 – a bank holiday Monday – Vincent, then aged only 19 and working for an art dealer in London, walked with two companions to Dulwich Picture Gallery. Painting as a potential career was not in his mind then, but he was passionately interested in art, in contemporary painting and poetry. Twelve years before his first major oil painting, Vincent left his mark at Dulwich. He signed the visitor book: H V van Gogh, The Hague. But it is somewhow more than just an autograph, beacuse the neat lines of the book could not contain him – he pressed so hard that it looks like he damaged the nib, unleashing a page of blurred and blotted signatures after his own. Nearly 138 years later to the very day, Van Gogh returns to Dulwich Picture Gallery.
Axel Ruger, Director of the Van Gogh Museum, said: "Naturally, visiting London's famous museums was part of what can be called his self-education. He made the trip to Dulwich Picture Gallery several times…therefore it seems more than fitting that Van Gogh's Self-portrait is shown in a place that meant to much to him."
The masterpiece will be on display from 2 August – 4 September 2011.
Categories
Tags