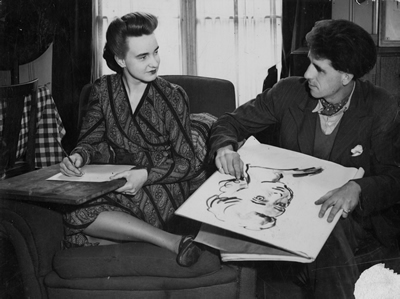 9TH July – 21st August
In 2010 during a visit to Sebastian Peake's home, Mr Wynd noticed a powerful oil painting in the bathroom, and was gripped by it. Over the course of many months and subsequent visits, Mr Wynd learnt that this was the work of Mervyn Peake's wife, a talented artist in her own right. He was eventually taken to an attic at the top of a town house in Clapham where he was shown a hoard of her paintings, untouched and unseen since her death in 1983.
In celebration of Mervyn Peake's centenary, The Last Tuesday Society are delighted to present a selling exhibition of drawings and paintings by Mervyn Peake & his wife, Maeve Gilmore.
This has led to the Gallery opening a selling exhibition of oil paintings and works on paper by Mervyn Peake and his wife Maeve Gilmore. This will be the first time Maeve Gilmore's work has been exhibited in over forty years.
An extensive selection of drawings and paintings by Mervyn Peake and Maeve Gilmore will be for sale. A limited edition postcard set will also be available.
www.viktorwyndfineart.co.uk/
About Mark Westall