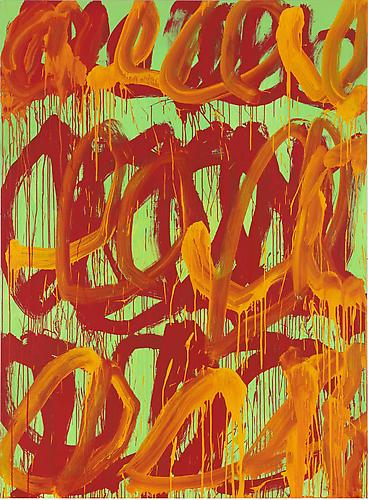 Image:CY TWOMBLY Camino Real II, 2010 Acrylic on plywood 99 3/8 x 72 7/8 inches (252.4 x 185.1 cm)

Video:GRANDFATHER OF GRAFFITI "CY TWOMBLY" R.I.P.
CY TWOMBLY April 25, 1928 -July 5, 2011
The American artist Cy Twombly, whose elegant and evocative swirls, splodges and scribbles made him one of the great figures of modern art, died of cancer in Italy yesterday, aged 83.
Below are just a few links to news and information about a great artist.

His death came just a few days after an exhibition at the Dulwich Picture Gallery placed his work alongside the French classicist Nicolas Poussin, an indication of the esteem to which his abstract style is held by even those with more traditional tastes.
'Great artist, wonderful man' – Cy Twombly dies of cancer, aged 83'Great artist, wonderful man' – Cy Twombly dies of cancer, aged 83 :[The Independent]
On Cy Twombly, 1928 – 2011 :[Boston Globe]
Death of a Modernist Master:
Cy Twombly's art is widely appreciated. But as Simon Schama argues, his passionate explorations of myth and fantasy deserve to be celebrated for transcending the confines of modernism. :[Daily Beast]
Cy Twombly // Gagosian Gallery NYC from Trebuchet Interactive on Vimeo.
en.wikipedia.org/wiki/Cy_Twombly
With tremendous sadness Gagosian Gallery announces the death of Cy Twombly, which occurred earlier today.
Larry Gagosian said: "The art world has lost a true genius and a completely original talent, and for those fortunate enough to have known him, a great human being. We will not soon see a talent of such amazing scope and intensity. Even though Cy might have been regarded as reclusive, he didn't retreat to an ivory tower. He was happy to remain connected and live in the present. Despite his increasing fame, he never lost the playfulness and sense of humor that was his true nature and, more importantly, he retained his humility. For me personally, it is an incredibly sad day and my thoughts are with Cy's family and close friends."
Categories
Tags