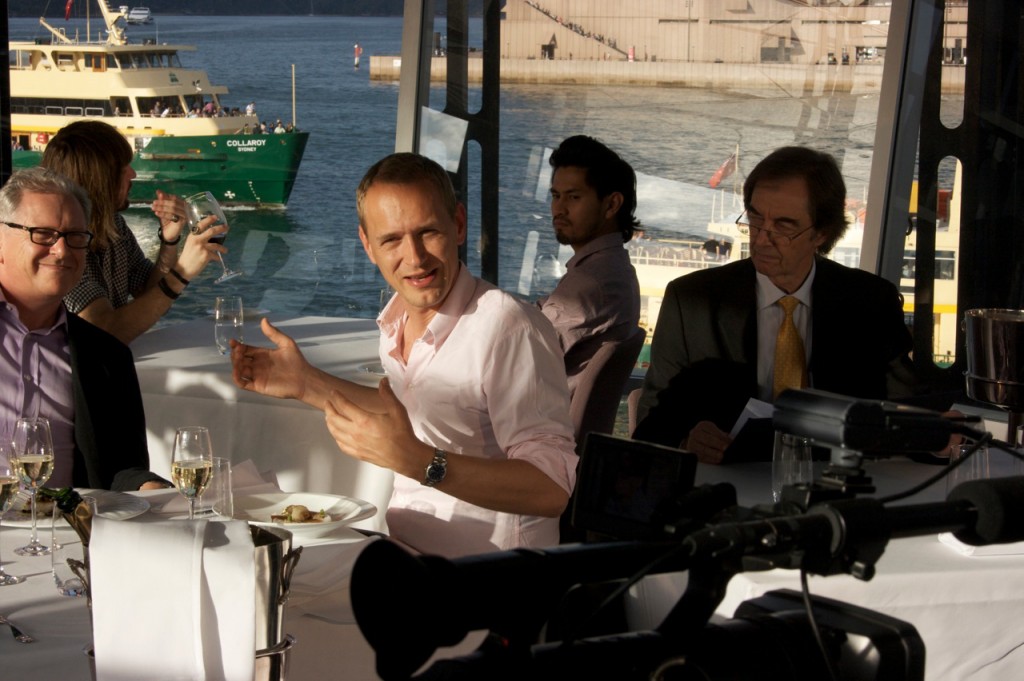 Image:Live From the Inside: Tableaux Vivant TV at QUAY restaurant, Biennale of Sydney Director David Elliot, artist Christian Jankowski, and COFA Dean Professor Ian Howard
This year the Frieze Projects includes eight specially commissioned projects as well as the Emdash Award.
The artists commissioned to create site-specific works for Frieze Art Fair 2011 are: Bik Van der Pol, Pierre Huyghe, Christian Jankowski, Oliver Laric, LuckyPDF, Peles Empire, Laure Prouvost and Cara Tolmie.
This year's programme incorporates a number of unique viewpoints throughout the fair that will demand a shift in viewers' perception, ranging from Laure Prouvost's idiosyncratic signs positioned in response to the fair's architecture, to Bik Van der Pol's physical commentary on the environment, which will take the form of an abstract script writ large on a live text 'scoreboard'. Pierre Huyghe's aquarium demands that the fair audience looks at a micro-level, exchanging the chaotic bustle and bright lights of the fair for a dark contemplative space, whilst Oliver Laric's web-based project will have a life after the fair, existing and spreading virally in new forms. Christian Jankowski's project engages directly with the idea of sales and exchange and the value of luxury goods, whereas LuckyPDF and Peles Empire are representative of grassroots practice, bringing emerging artists, artistic social enterprise and new technologies to the 2011 fair.
The Emdash Award 2011 recipient is Anahita Razmi. She will present a new commission that intends to draw attention to how Tehran's skyline was recently used by protestors after the Iranian presidential election. She will use Trisha Brown's 1971 work Roof Piece, which took place on 12 different rooftops over a ten-block area in downtown New York, as its point of departure. The work will be presented as a video installation at Frieze Art Fair. The Emdash Award is supported by the Emdash Foundation, a private foundation with a mission to support new ideas and emerging talent across disciplines, from the arts and cultural projects to science.
Frieze Projects is commissioned by Frieze Foundation and is supported by the Emdash Foundation. Frieze Art Fair is sponsored by Deutsche Bank for the eighth consecutive year.
Bik Van der Pol
Bik Van der Pol will make a full-size 'live' scoreboard, initiated by an interest in visionary architect Cedric Price (whose London Zoo Aviary is close to the fair). Drawing from Price's interests in temporality and visibility, Bik Van der Pol's scoreboard will be animated live by assistants who will constantly change the text to spell out a number of abstract idioms, quotes and maxims, providing a narrative for visitors to the fair.
Bik Van der Pol is a duo of Dutch artists based in Rotterdam who have worked
collectively across art and architecture since 1995.
Pierre Huyghe
Pierre Huyghe's aquarium is a live ecosystem that will host a specific narrative created for Frieze Art Fair. This narrative is enacted by particular seawater creatures selected as the players in Huyghe's aquatic performance. While the conditions in which the players coexist are constructed within a fictitious narrative, the behavioral relationships between the players are real and not scripted. The aquarium will create an intimate psychological world that will form a point of contrast with the atmosphere throughout the rest of the fair.
Pierre Huyghe (b.1962) is a French artist based in Paris and New York.
Christian Jankowski
In conjunction with a luxury yacht company, Jankowski's project will employ a boat
dealer to sell a full-size motor yacht from a conventional gallery stand. This luxury
product will be available to buy not only as a boat, but also as a Christian Jankowski artwork. The potential client will be able to enter the salon to see the interior, and hear descriptions of the yacht/artwork.
Working in film, video, performance and installation, Jankowski's work is collaborative in process, constructing situations that require the subjects to be complicit in his works. Whether wittingly or unwittingly, these participants, their responses and actions are often the crux of the work. Christian Jankowski (b. 1968) is a German artist based in Berlin.
Oliver Laric
For his project at Frieze Art Fair 2011, Oliver Laric will be creating stock video footage to be published for free use as public domain material. This portfolio of film footage will be shot in and around the fair, using a number of specialist high-resolution cameras with specific slow motion and digital cinematographic features. Usually this material, held in image archives such as Getty Images or Corbis, is available to buy for use in corporate films, adverts and Internet 'idents', as well as on personal blogs and websites. Often acting as a mediator, Laric extends the offer of an anonymous collaboration across the Internet, collating and exhibiting the results in exhibitions as his own. Oliver Laric (b.1981) is a German artist based in Berlin.
LuckyPDF
LuckyPDF will invite over 30 artists to show and produce new work for a series of live daily broadcasts made at Frieze Art Fair. Film performance, news and chat will be introduced by special guest presenters. Visitors can join them in the project space studio for open rehearsals and live recordings or watch throughout the fair on special screens and wire less access points. Viewers at home can watch via the Frieze Foundation website so as not to miss any of the action.
LuckyPDF is an artists' group that has been active in Peckham, south-east London, since late 2008. They are: James Early, John Hill, Ollie Hogan and Yuri Pattison (all b. 1986). Working collaboratively with an ever-changing network of emerging artists, they produce online television programmes, Internet interventions and live events.
Peles Empire
Peles Empire is a collaboration by Katharina Stoever and Barbara Wolff, founded in 2005. Their work takes as its source material Peles, a Romanian castle sited at the foot of the Carpathian Mountains. Built between 1873 and 1913, the castle's architecture is a clash of historical styles ranging from Renaissance to Gothic Revival, Art Deco to Rococo. Peles Empire has previously functioned as an exhibition space, salon and bar, as well as a collaborative force. Stoever and Wolff have reproduced nine different rooms of the castle, recreating them with simple photocopied montages. Themes of reproduction, reconstruction and transformation, as evident in the history of Peles have formed the thread of Stoever and Wolff's production. At Frieze Art Fair, Peles Empire will install a bar
that acts as a Gesamtkunstwerk in which everything – from the reproduced room and its decorative furnishings, to the serving of guests and taking part in the fair – is part of the work. Katharina Stoever (b.1982) and Barbara Wolff (b. 1980) are German artists based in London.
Laure Prouvost
Laure Prouvost's idiosyncratic installations are cacophonous environments centred on domestic objects, film, sound and that often invoke loose narratives based on a single event. Humorous, irreverent, and discordant, these installations include a number of handpainted signs that purport to instil some order into the situation, but often offer little clarity. Playing with issues of language, translation and authority, or with ideas around space and disorientation, the signs are often funny, sometimes sweet, occasionally straightforward and instructional. Prouvost's signs for Frieze Projects will be made in the days preceding the fair as a response to the architecture of the space and the movement of its audience.
Laure Prouvost (b.1978) is a French artist based in London.
Cara Tolmie
Cara Tolmie's practice spans installation, performance, video, music, text and spoken word. For Frieze Art Fair she will make a new performance that centres upon the voice and narrative as devices that will construct a postulated fictional space. The performance will map out the laws of this space within the space of the fair, purely through methods of performance – song, movement and spoken word. Often Tolmie's work extracts narrative and meaning from a simple starting point, perhaps a short piece of video or an image, which then multiplies and expands exponentially to provide source material for a full body of work – by analysing a simple landscape she may write a script, develop a voice performance or shoot a film. Cara Tolmie (b.1984) is a Scottish artist based in London.
Categories
Tags