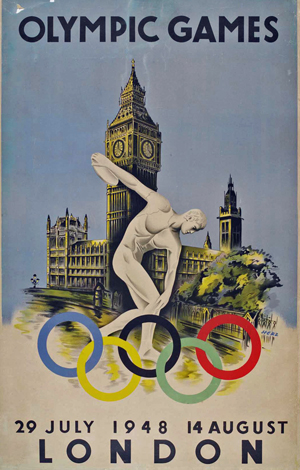 Image: Poster from the last time London hosted the Olympics in 1948
Twelve British artists including Tracey Emin, Martin Creed and Chris Ofili will design a set of posters for the Olympic and Paralympic Games next summer, as Britain seeks to use the events to showcase its cultural heritage.
Emin told reporters at an event at Tate Britain gallery, held exactly a year before the London 2012 Festival event gets underway, that she wanted her poster to be a celebration of life in the city.
"(I want to) show the world that London can really throw a party and that was what it was like with the royal wedding," she said, referring to the recent marriage of Prince William and Kate Middleton that attracted a huge global television audience.
"In times of depression, what came across as really, really cool was the arts. Arts and culture is the soul of the country," she added. "I'm interested in the party scene, the celebration."
For Michael Craig-Martin, also selected, artists had the advantage over graphic designers when it came to making posters for an event like the Olympics.
"Artists always bring something different, because you are bringing a personal language to it."
The full list of commissioned artists is:
Fiona Banner, Michael Craig-Martin, Martin Creed, Tracey Emin, Anthea Hamilton,
Howard Hodgkin, Gary Hume, Sarah Morris, Chris Ofili , Bridget Riley, Bob and Roberta Smith, Rachel Whiteread

The London 2012 Festival, which is the culmination of the four-year Cultural Olympiad, will run for 12 weeks from June 21-September 9 and include events around the country.
Categories
Tags