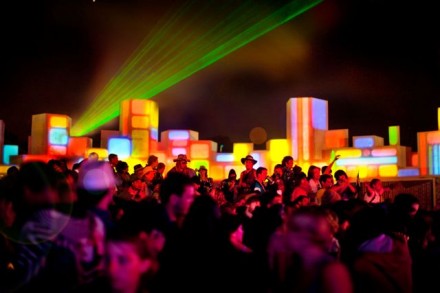 The Wellcome Trust is bringing its Dirt season of events to Glastonbury this year with a Decontamination Unit inside Shangri-La, the festival's after-hours pleasure city. The Trust has commissioned Shangri La and Guerilla Science to create the Unit, which will be cleansing revellers physically and psychologically during the festival. The Unit will be open each evening and in afternoons over the weekend. There will be a special press preview on Thursday at 8pm.
Shangri-La this year will be stricken by an outbreak of a virus that can be spread via touch, contaminating all who come into contact with it. Alleys will be covered in invisible UV paint, creating a visual means to "infect" thousands of people, and creating two groups: the contaminated and the clean. The only way to achieve purity, cleanliness and salvation is through the Decontamination Unit.
At the entrance, guests will be surrounded by footage of viral outbreaks before they encounter a microbial zoo: a menagerie of the flora and fauna of the human body. Two Guerilla Scientists will be on hand, clad in biohazard respirator protective suits, and a team of microbiologists will assess the contaminated revellers and determine if they require physical or moral decontamination:
The first route leads to counselling with a team of psychiatrists, led by Dr Mark Salter of Homerton Hospital in Hackney. Through led introspection and psychological priming, guests will be prepared to enter the Shame Drain, where they will be able to purge themselves of dirty secrets to a voice recorder positioned inside a black box.
Those not selected for psychiatric cleansing will be dressed in a biohazard suit and sent for physical purification, After making their way through the cleansing chambers, the purified will exit through The Skywalk onto the pristine second level of Shangri-La, having escaped the world of filth, and embarking into a brave, clean new world.
"This year I wanted to bring some scientific content to Shangri La – give the narrative a bit more meat," says Debs Armstrong, creative director of Shangri-La. "There are so many interactive artistic installations that are very creative, but to bring actual science into the fold is altogether different, and rarely done."
The Decontamination Unit is sponsored by the Wellcome Trust as part of the Dirt Season of events, a celebration and exploration of all things filthy from Glasgow to the West Country.
Dr Amy Sanders, Special Projects Manager at Wellcome Trust, says: "When I first started thinking about where we should take the Wellcome Trust Dirt season, Glastonbury seemed an obvious choice: organisers and visitors have to deal with copious mud and dust, limited showers and loos, and numerous humans (and their germs) in close proximity," says. "It's one of those rare occasions when most of us are confronted with our own, and others', bodily dirt -what better place to get people thinking about our complex relationship with it?".
Jenny Wong, Director of Guerilla Science, says: "This is Guerilla Science's first time at Glastonbury, and the Decontamination Unit within Shangri-La promises to be a departure from what we've done before and possibly strangest project we've delivered at a music festival yet. That we are playing on multiple interpretations of dirt and the science it relates to, in the context of a viral outbreak in the middle of the night, is something to celebrate. We are anticipating this particular mix of science, art and play within the mother of all music festivals with no small delight."
Guerilla Science
* Guerilla Science brings bespoke activities, performances and events to unconventional habitats for science by blending science with art, music and play. They take researchers out of the lab and into novel venues, such as art galleries and music festivals in order to inspire people, challenge mainstream views of science, and embed science into culture.
* Since their debut at the Secret Garden Party in 2007, Guerilla Science have showcased demonstrations, talks, interactive events, live experiments, games and performances by academics, artists, and professional science communicators at music and art festivals. Information on all past and future events can be found on www.guerillascience.co.uk.
Shangri-La
* More than simply an after-hours venue, Shangri-La follows a storyline that evolves year by year, and willingly or not, everyone who enters the city becomes a part of this story. In 2009 it was a pleasure city run by a corrupt dictatorship. In 2010 the ruling administration was overthrown and the city was opened up to rebels. In 2011, the city is pre-apocalyptic, and the population of the city is preparing to flee before the end of the world as they know it.
* The slums of the city have spread to cover an entire hill at Glastonbury, and a virus is spreading rapidly – the citizens have decided to give up trying to save the planet. Instead, they are about to colonise a new planet, leaving all the rubbish behind. They have already shrink-wrapped or shipped off their most valuable assets, and now they are about to throw the biggest party of their lives. But, in order to reach the new, much cleaner and far superior Shangri-La – the second storey of this rambling network of alleys and buildings – everyone will need to be rid themselves of any moral or physical contamination.
Wellcome Trust
* The Wellcome Trust is a global charity dedicated to achieving extraordinary improvements in human and animal health. It supports the brightest minds in biomedical research and the medical humanities; its breadth of support including public engagement, education and the application of research to improve health. The Trust is independent of both political and commercial interests.
* The Wellcome Trust's Dirt season runs until 26 September 2011 and includes events at dirty locations across the country from Glasgow to Glastonbury. Look out for dirt banquets, decontamination units, poo-related games, scratch and sniff cards and the science of filth, together with a major exhibition in London. Find out more at Here
Categories
Tags