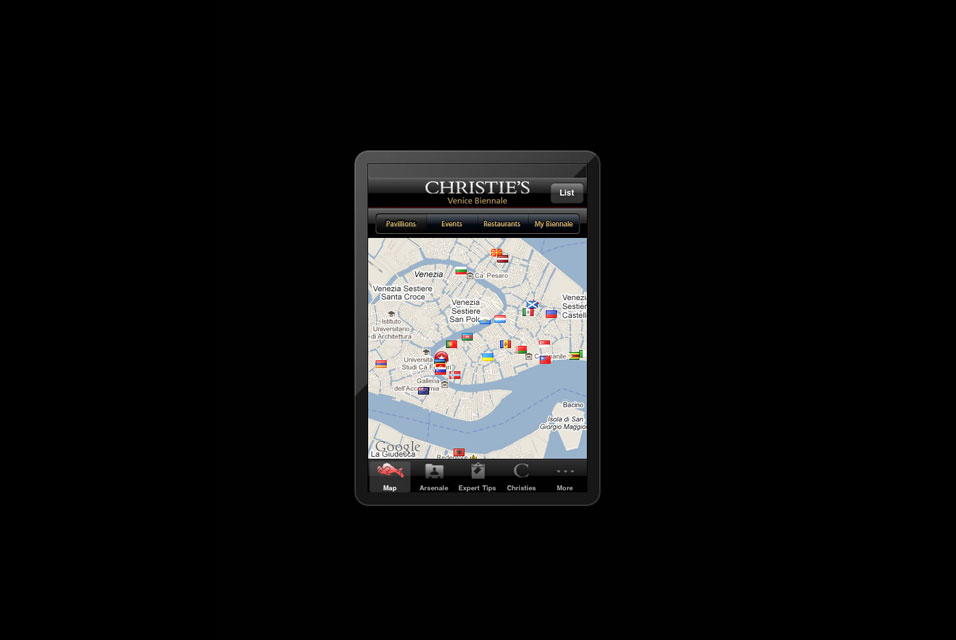 Christie's, the world's leading art business, created the first ever, complete guide to the Venice Art Biennale and are now happy to offer it for free to any art lover.
Now available to download for free for iPhone and iPad, the app lists and geo-locates not only all of the official Venice Biennale exhibitions and artists, but also the fringe venues and independently organised events. Functions also include art experts' tips as well as useful numbers and listings of selected Venetian restaurants and hotels.
The GPS function, which doesn't require coverage to work, will locate you on the map and then help you find your next destination. The app is now live on iTunes so that visitors have time to begin storing their Biennale favourites in the 'My Biennale' scheduler section, ahead of the vernissage week 1-3 June.
The Biennale runs to 27 November 2011 and expects to see some 375,000 visitors.
Biennale app can be used on iPhone and iPad.
Now downloadable at: www.christies.com
The Biennale App functions include:
• Where am I? – A fully embedded map of Venice allowing you to find your location, Biennale venue locations and get directions, entirely independent of wifi signal.
• Events – What is happening, where and when. A calendar of events with map locations.
• Restaurants – Find the restaurant nearest you and then use the telephone numbers detailed to ring and reserve. All map functions (including pavilions and events) are also available in list format.
• Social Networking – send favourites to both Facebook and Twitter, and follow a live Twitter stream fed by Christie's experts on what's happening on the ground at the Biennale.
• Useful info – how to get vaporetto tickets, book a private water taxi, access tourist information, wifi in Venice, and routes to the airport, etc.
• Expert Tips – leading names in the art world give their expert tips about what to see and where to go in town.
Categories
Tags