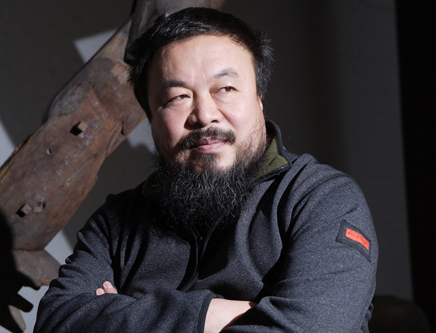 A tiny bit of good news from the Guardian below –

---
This article titled "Ai Weiwei in 'good physical health but mentally conflicted'" was written by Tania Branigan in Beijing and agencies, for The Guardian on Monday 16th May 2011 12.46 UTC
Detained artist Ai Weiwei seems to be in good physical health but mentally conflicted and tense, his wife has said after seeing him for the first time in six weeks.
Lu Qing said she was taken to see her husband for about 20 minutes on Sunday afternoon, the first contact friends and relatives have had with the 53-year-old Chinese artist and activist since officials stopped him at Beijing airport on 3 April.
It is not clear where he is being held and the people who arranged the visit did not show her identification, she added.
"I could see redness in his eyes. It was obvious that without freedom to express himself he was not behaving naturally even with me, someone from his family," Lu told Associated Press. "He seemed conflicted, contained, his face was tense."
The couple sat across the table from each other and their visit was supervised by two people, one "who seemed to be in charge of Ai", and another who took notes.
"We could not talk about the economic charges or other stuff, mainly about the family and health," Lu said. "We were careful, we knew that the deal could be broken at any moment, so we were careful."
Ai was not handcuffed, was wearing his own clothes rather than a uniform, and retained his beard. He said he had his blood pressure checked several times a day and had received medication he needed for diabetes. He was able to exercise by walking and said he was eating and sleeping well.
"The fact that Lu Qing could see him was already a very merciful act by the authorities," his mother, Gao Ying, said, adding that Ai did not discuss his charge beyond saying he "did not understand it".
She added: "The rumours that we've heard about him being tortured have been too much for us to take, but now seeing is believing. His condition is good."
Gao said her son had been particularly concerned about her health. "Of course [Lu] had to tell him that I'm doing well and not that I'm at home crying everyday … He was very moved and tears welled up in his eyes," she added.
Ai's sister Gao Ge said: "Now that we've seen that his health is OK, of course we are a bit less anxious, but that's not to say we want him to stay where he is … We really want this case to be dealt with as soon as possible and for the government to follow proper procedures in keeping with Chinese law."
Liu Xiaoyuan, a lawyer who has said he is willing to represent the artist if necessary, said Ai was not in a jail or a detention centre, but that neither Lu nor Ai were sure where he was being held.
He said police had still not informed Ai's family of detention and that he suspected the artist was being held under residential surveillance. Joshua Rosenzweig of the Dui Hua foundation, which supports political prisoners, said the law did not spell out whether police should notify family members of the measure because normally it would be carried out at an individual's home.
Residential surveillance orders last around six months. In comparison, police must inform relatives of detention within 24 hours, unless it would impede the investigation, and report to prosecutors on the case within a month.
"[Residential surveillance] is supposed to be less punitive but the way it is being carried out – if it is – is really turning things on its head. It is much more advantageous to police. There are very few limits on their ability to interrogate you," added Rosenzweig.
Ai's case comes amid a broader crackdown on lawyers, dissidents and activists in recent months. His friend Wen Tao, 38, driver and cousin Zhang Jinsong, also known as Xiao Pang, 43, accountant Hu Mingfen, 55, and colleague Liu Zhenggang, 49, all remain missing.
Officials have said Ai is under investigation for suspected economic crimes.
Last week, the vice-foreign minister, Fu Ying, said it was "very condescending for the Europeans to come in to tell China that some people are beyond the law".
But relatives believe his detention is retaliation for his social and political activism.
Gao Ying told CBS recently: "I think in reality, he was taken because he was protecting the rights of ordinary citizens and speaking for them … I think … he offended people in power and they hate him, so now they are looking for an opportunity to take him down."
guardian.co.uk © Guardian News & Media Limited 2010
Published via the Guardian News Feed plugin for WordPress.
Categories
Tags