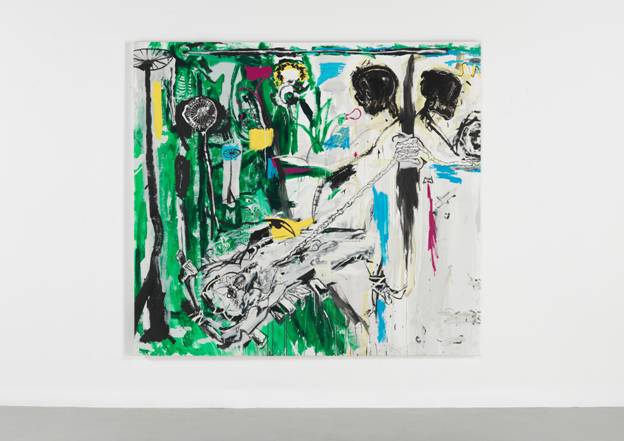 Image:Friends in Evisceratio, 2010 207 x 229cm Oil on canvas
1 If you weren't an artist, what else would you be?
Any animal.
2 Name 3 of your least favourite artists.
Me Myself and I.
3 Anytime, any place – which artist's body would you most like to inhabit?
Gauguin on arsenic.
4 What is your favourite 'ism'?
Specialism.
5 What was the most intelligent thing that someone said or wrote about your work?
Specialist of Nothing.
6 And the dumbest?
Specialist of Something.
7 Which artists would you most like to rip off, sorry, I mean appropriate as a critique of originality and authorship?
None.
8 Do you care what your art costs? State your reasons!
No, money is boring.
9 What are the three big ideas that you would like your work to express?
Art is bigger than ideas.

10 Are you a political artist?
Yes.
11 How do you start the process of making work?
Having Fun.

12 What next?
Work.
13 If Moma and the Tate and the Pompidou wanted to acquire one of your works each, which would you want them to have?
Pompidou because he is the only President with poetic anthology.
14 What is your favourite cheese?
Camembert.
15 What's next for you?
Death.

Nicolas Pol
About Mark Westall