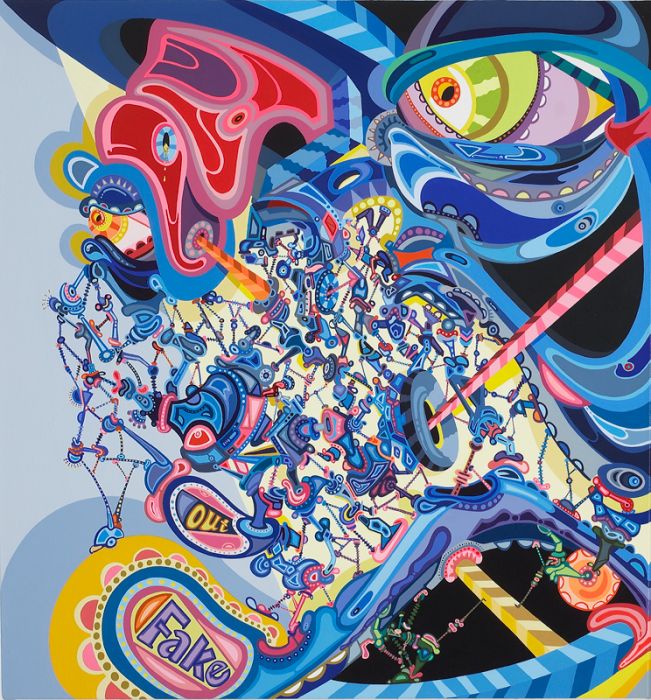 April 4th to 30th
New York based artist Erik Parker (b. 1968) paints meticulously curated worlds of chaos within his brightly colored, highly saturated canvases. The artist obsessively paints layer upon layer of amorphous shapes, globules and drops pushing each composition to the optical extreme.
Parker's biomorphic subjects not only reference the hallucinogenic psychedelia of American culture in the 1960's, but also historical and contemporary socio-political issues. Informed by a variety of sub cultural themes, including music, graffiti and illustration, Parker offers a profound visual experience beyond his intensely layered forms of text and imagery.
Erik Parker was born in Stuttgart, Germany and studied at the University of Austin, Texas then at SUNY Purchase. Parker's work has been widely published and has earned him several awards. He has exhibited in solo shows in Tokyo, Milan, Manchester, Cologne, New York and Los Angeles, as well as in group shows around the world. It's here about its first exhibition in Paris, which will also present paintings and drawings on paper. A catalog, published by Honor Fraser, its gallery of Los Angeles, will be put on sale.
Signing and meeting with Erik Parker on April 4th, 6 to 7 pm
www.colette.fr/
Categories
Tags