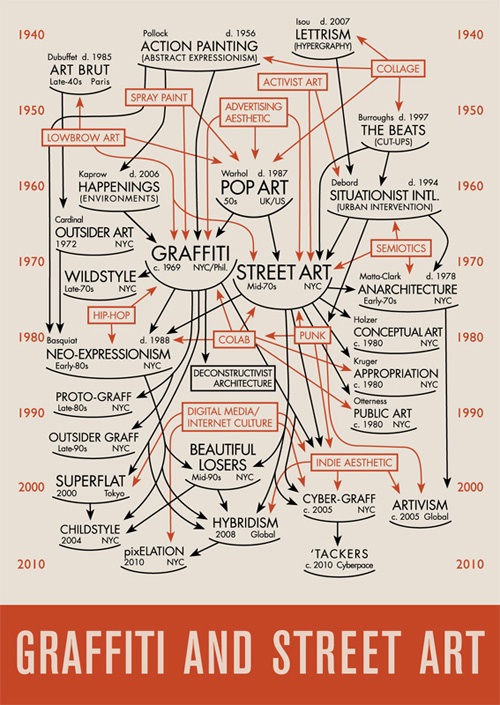 Image:GRAFFITI & STREET ART diagram by Daniel Feral is a
75th Anniversary celebration of Alfred H. Barr's CUBISM & ABSTRACT ART diagram.

Windows exhibition runs April 2-17, 2011 On view 24 hours a day
ARTISTS
Abe Lincoln Jr., John Ahearn and Rigorberto Torres, Adam VOID, Cassius Fouler, Cake, Darkclouds, Droid, El Celso, Ellis Gallagher, Faro, John Fekner and Don Leicht, Freedom, Gen2, Goya, Groser, Richard Hambleton, infinity, KET, LSD-Om, Matt Siren, NohJColey, OverUnder, Oze 108, Quel Beast, Royce Bannon, Sadue, Jordan Seiler, Stikman, Toofly, UFO, and Vudu.
On Saturday, April 2, 2011, 33 graffiti writers and street artists will unite to reclaim the former Donnell Library as a repository of visual information on the growing world-wide phenomenon of street art. This exhibition will present an art historical timeline that is a part of New York City's unique legacy. The artistic contribution of these cultural catalysts and preservationists from the 70's to the new millennium will address the ever-changing urban landscape and alternative modes of producing art in the streets.
The exhibition will feature paintings, mixed media work and sculpture from 33 artists. Some of the works will include a reconstructed canvas of corporal representation by Adam VOID, an autobiographical allegory from the streets by Faro, a metaphorical self-portrait by Freedom, a Duchampian work done and framed with banal yet commercially contentious material by Jordan Seiler, a stenciling kit adorned with street philosophy by John Fekner and Don Leicht, an intricate cutout and mixed media sociopolitical assemblage by NohJColey, busts of heroes past, present, and future by John Ahearn and Rigoberto Torres, and a large-scale, 3-D representation of graffiti's tenets by the 907 crew. These works will span 140 linear feet of storefront window space that will be illuminated by lights both day and night.
PANTHEON is Co-Curated by Daniel Feral and Joyce Manalo along with Debra Anderson and Royce Bannon of the Advisory Committee and the collaboration of dedicated and talented individuals, most notably, Abe Lincoln Jr., Francesco Alessandra, Kat Amchentseva, Maura Barry, Erik T. Burke, Jennifer Diamond, Valentin Farkasch, Karla Henrick, Johan Kritzinger, Luna Park, Dan Nguyen and Mariette Papic, and contributing photographer and writers Adam VOID, Jazzmine Beaulieu, Monica Campana, Jake Dobkin, Alex Emmart, Becki Fuller, Ali Ha, Sam Horine, infinity, Alan Ket, Luna Park, and Joe Russo. Thank you to Brooklyn Street Art (media partner); WM Dorvillier & Company, Inc. (exhibition partner); ArtForward, Culture Shock Marketing, Gothamist, Nuart, Plaztik Mag, The Street Spot, Streetsy (media sponsors); and Crescent Artists and Conveyor Arts (exhibition sponsors). Special thanks to the Woodward Gallery, NYC for the loan of Richard Hambleton's, Fountain of Youth, 1982. Image credits courtesy of the artists and contributors.
www.pantheonnyc.com or www.chashama.org .
Categories
Tags