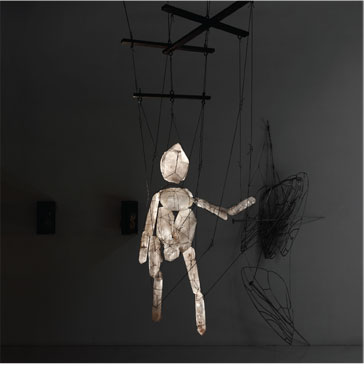 Image:Tunga, Crystalline, 2010. Photo: Schipper & Carrera
1st April – 4th May 2011
One of the most influential artists of his generation, Tunga (b. Palmares, Brazil 1952)
lives and works in Rio de Janeiro. Tunga's extraordinary practice encompasses sculpture, performance, poetry and video. For over thirty years he has created an integrated body of work characterized by an associative interplay of mirroring and self-reference between individual pieces.
Derived from his own constructed mythology Tunga creates installations and sculptures that seem to recall the ancient ritualistic practices of some lost civilization.
For his first exhibition with Pilar Corrias Tunga has created a series of meticulously
constructed sculptural assemblages deploying the symbolic materials central to his
sculptural vocabulary. Held together by magnetic force fields alchemic assemblages
of talismanic objects sensually evoke the delicate equilibrium between life and death.
Fusing lead, glass goblets, steel braiding, crystals, and bodily fluids this series of Untitled works form the latest manifestation of Tunga's symbolic universe in which the harmonious and the subversive coexist.
Categories
Tags