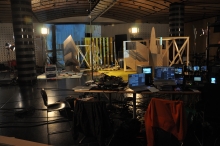 This live art presentation transforms the SLG's main gallery space into a hybrid installation/film set to create a dynamic space for live performance, music, video and sculpture.
A walkway cuts through the space becoming at once arcade, exhibition, passage, runway and stage. Along the path are various objects and tableaux: new scaffold sculptures and a selection of object arrangements that have come to be associated with Tajima and New Humans installations and performances include cinema flats, mirrors, palettes of soft drinks, a junkyard car and a treadmill.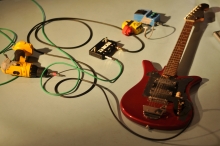 Structured around the theme of walking, the installation operates as a fully functioning film set, on view within our usual opening hours, during which rehearsals also take place for a series of events by a range of performers.
Performances
Sound: New Humans with John Smith
Sat 2 Apr, 7pm
Talk: Richard Hornsey/Nina Power
Sun 3 Apr, 3pm
Dance: Gaby Agis
Wed 6 Apr, 7pm
Finale: Parade, coordinated by Les Child
Sun 10 Apr, 3pm
Events are free but numbers are limited, so please come early to ensure your place.
Curated by Andrew Bonacina and Anne-Sophie Dinant.
Categories
Tags