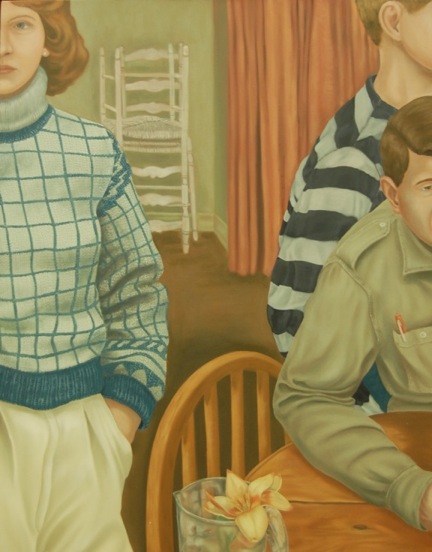 Image:Michael Cline, Folkways, 2011, oil on linen, 30 3/4 x 24 7/8 inches
MARCH 18 – APRIL 23, 2011
This is Michael Cline's second solo show with the gallery, Arcadia.
In this most recent series, the imagery centers largely on the domestic and is executed in a careful and precise way. His paintings, drawings, and sculpture describe mysterious scenes of work and play. As such, we are privy to private moments and ambiguous narratives decidedly more strange than their straightforward presentation might suggest. Free from the constraint of public life, Cline's characters seek the knowledge of their true natures, engage in games, organize their affairs, and reflect on memories. Surrounded by objects of comfort and habituation, they inhabit a dreamy world of both quiet introspection and busy work.
Born in 1973 in Florida, Michael Cline lives and works in New York. He received his MFA from the School of the Art Institute of Chicago and his BA from the University of North Florida. Solo exhibitions include Galleria Il Capricorno, Venice; BFAS Blondeau Fine Art Services, Geneva: Daniel Reich Gallery, New York; Me.di.um, St. Barthelemy; David Kordansky Gallery, Los Angeles; and The Wrong Gallery, New York. Group exhibitions include MACRO Museum, Rome; Deste Foundation, Athens; Marianne Boesky Gallery, New York; Guild and Greyshkul, New York; David Zwirner, New York; and Lehmann Maupin, New York. In December of 2010, Cline curated a group exhibition entitled Private Future at Marc Jancou Contemporary, which included work by Kerry James Marshall, Erik Parker, and Jim Shaw amongst others.
Categories
Tags