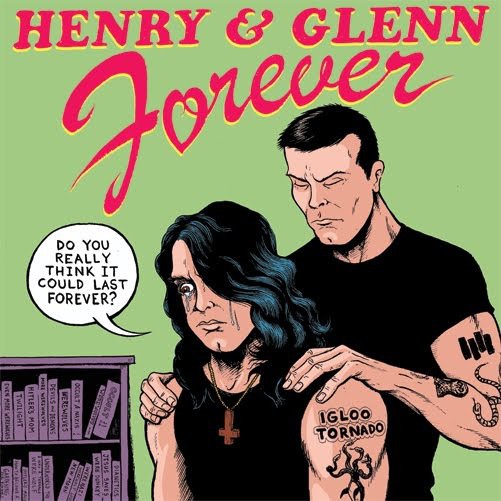 I had a chance to catch up with the guys from the art brotherhood, known as I gloo Tornado. They are the masterminds behind the comic "HENRY AND GLENN FOREVER" and have just held the "HENRY AND GLENN GANG BANG" at La Luz de Jesus Gallery in Los Angeles.
Here Tom Neely and Gin Stevens give us a background on what it means to be I gloo Tornado and the phenomenon known as
HENRY AND GLENN. By Chantal M enard
* Our understanding is that I gloo Tornado is a collective of artists working together….Who are the main players in "I gloo Tornado?" When and how did you all come together?
Tom: The Igloo Tornado is an art fraternity that started around 2004. We are Gin Stevens, Tom Neely, Scot Nobles and Levon Jihanian. Scot and I went to college together and he's one of my oldest friends. When we both ended up living in LA, I thought we should start a little art club or something and just get a group of artists to hang out and talk about art. So, I invited a couple of other friends, artist Gin Stevens, and cartoonist/painter Levon Jihanian and that's how it came about. Since then, we've had a couple of 4 man shows together at Black Maria Gallery, and helped put together a few other group shows at other spaces around LA. And then this Henry & Glenn thing…
We're currently looking for a gallery for a future 4 man show.
* What's the story behind the name "I gloo Tornado?" How was the name chosen?
Some are Igloo. Some are Tornado. That is all you need to know.
* Does I gloo Tornado have a particular mission, goal or life philosophy?
Tom: For me there's no real agenda other than just being a supportive brotherhood of artists. We're all very different artists with different goals and ideas, but we wanna help each other get there. But then it's also fun to just get together with some other artists, drink some beers, and talk about art and stuff.
* You guys are best known for your comic "Henry and Glenn Forever." Can you tell us about the premise of this comic and HOW did you guys come up with the idea for H& G?
Tom: One night at the Bigfoot Lodge, after many a number of rounds, Gin Stevens said "There should be something like Tom of Finland, but with Henry Rollins and Glenn Danzig…" and we decided to make that happen. It evolved into this series of one-page riffs , or gags, based on the idea that the two rock icons are "domestic partners." It was
just something fun for us to sit around doodling at the bar. And then we decided to make a zine of it… and that was so popular that we decided to make a book out of it… and now it's turned into a monster!
* You guys just had a group show and book signing, "Henry and Glenn Gang Bang" at La Luz de Jesus Gallery. You had quite an eclectic mix of artists all paying tribute to the comic. How were the artists chosen? Who were some of the contributors to the show? Do you guys see yourselves doing more group shows in the future and Can we look forward to another Gang Bang?
Billy Shire contacted us after he read the book and asked if we wanted to do a signing and art show. We had already done a book release party at Secret Headquarters Comic Book shop back in April, 2010, and sold all of the original art from the book. We thought it would be fun to ask other artists to join in this time. We each asked several of our friends to participate. I don't know if I could pick out a favorite. It's a little overwhelming to see so many other artists that you admire doing artwork inspired by something you created. Clayton Brothers, Coop, Kaz, and Johnny Ryan are all artists I've looked up to for so long.
And to bring in some of my favorite "underground" artists like Reuben Splatterbeast and Jose Gabriel Angeles is really exciting to me.
* Where can our readers pick up a copy of Henry and Glenn and are there plans to do another issue?
We don't have any definite plans for a sequel to the book, but there is still life in these characters and we may do something more soon.
To get the book- if you're in LA, I know you can get them at the Wacko store, Secret Headquarters Comic Shop, Vacation Vinyl, Meltdown Comics and House of Secrets. Outside of LA, you can get Henry & Glenn Forever at most comic shops and hip independent book stores. Tell your local stores to order them from Microcosm
Distribution:microcosmpublishing.com/
You can also get signed copies through Tom Neely's website:
www.iwilldestroyyou.com/
Igloo Tornado link:www.iwilldestroyyou.com/ iglootornado.blogspot.com
Categories
Tags