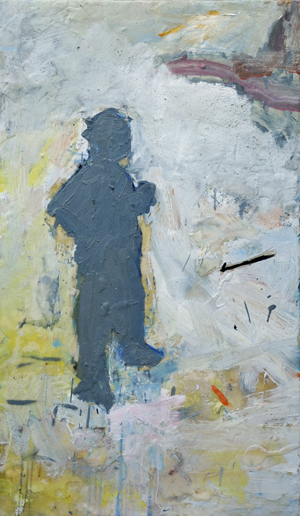 Exhibition: 8th March – 3rd April 2011
"I have known many men I would rather have shot than these dogs" – Frank Wild, Antarctic explorer, 'Endurance' expedition 1914 – 1917
The artist 'Harry Adams' is the collaborative expression of the artists Adam Wood and Steve Lowe.
Steve and Adam have worked together over many years creating a body of work that they choose to present with a singular authorial voice. Harry Adams work has included music, performance, photography, collage & montage, printmaking, graphic art and crockery. Here we see 'him' invoked as pure painter.
This process of collaboration is one of joint venture, common spirit and camaraderie, whilst both allowing and submerging the individual artists egos and personal expression.
Whilst being a presentational device, the Harry Adams 'process' also allows both playfulness and stark intent. The resulting works are steeped in the tradition of mark making and are an ongoing commitment to the search for significance within 'lightness of touch'.
Some paintings are undertaken individually, others are painted together or in turns, and there is an almost continual accompanying dialogue and critique. It is also significant that the paintings are made in the studio at the L-13 Light Industrial Workshop and that sometimes explicit nods are made towards other L-13 artists, primarily Billy Chyldish and Neal Jones.
Central to this exhibition is a series of paintings based on the photographic record of early polar exploration, in particular those of the Sir Ernest Shackleton. However, short shrift is given to the specific exploits and the heroics of Shackleton and his men, and the images instead become re-imagined, isolated and removed from the security of their own narrative. The resulting paintings are elemental, raw, '3 chord' inventions as opposed to descriptive accounts.
To this effect, varying degrees of aesthetic seduction are set against a brutish disregard for easy pleasure, and an analogous relationship with exploration, success and failure is ever present.
This reactive theme is continued in a companion series of paintings called the Pathological Demand Avoidance (PDA) Paintings. These utilise, in tiresome repetition, a motif based on the Tate Modern simplified to a kind of desexualized phallic symbol or 'up yours' gesture; always badly painted with varying degrees of ineptitude, but sometimes with surprisingly beautiful results.
Frank Cheetham, February 2011
Categories
Tags