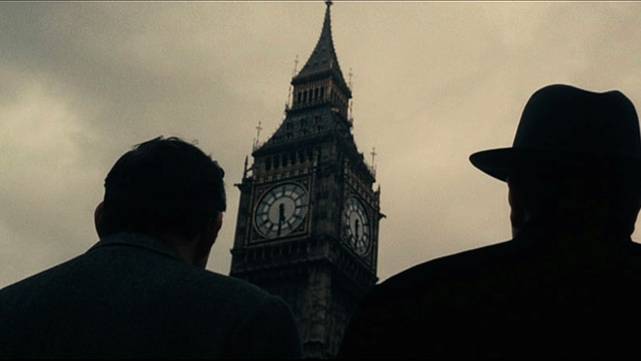 Image:Christian Marclay The Clock, 2010 Copyright the artist, courtesy the artist and White Cube.
In the Days of the Comet Hayward Gallery, Southbank Centre
16th February – 17th April 2011
British Art Show 7 arrives at the Hayward Gallery, the first time it has been presented in London for 21 years. Organised by Hayward Touring Exhibitions since 1979, the British Art Show takes place every five years and tours to four different cities across the UK. After the Hayward Gallery it travels to venues in Glasgow and Plymouth.
Curators Tom Morton and Lisa Le Feuvre selected the 39 artists on the grounds of their significant contribution to international contemporary art in the last five years. All artworks included have been produced since 2005 and encompass sculpture, painting, installation, drawing, photography, film, video and performance, with many artists creating new works especially for the exhibition, several of which will premiere at the Hayward Gallery.
For the exhibition's presentation at the Hayward Gallery the curators have added major new works by Roger Hiorns, Charles Avery, Steven Claydon, Anja Kirchner & David Panos, and Keith Wilson, and will reveal the next stages of evolving projects by Nathaniel Mellors, Olivia Plender, and Tris Vonna-Michell, and enhanced presentations of the works of Varda Caivano and Phoebe Unwin. At randomly chosen moments visitors to the exhibition may have a chance to encounter a young naked male tending a fire on a bench in Roger Hiorns' Untitled (2005-10). The exhibition includes Christian Marclay's cinematic collage and working timepiece The Clock (2010); Sarah Lucas' biomorphic sculpture series NUDS (2009-10); George Shaw's highly detailed paintings of Midland's council estates; Elizabeth Price's monochromatic film User Group Disco (2009) set to an 80's soundtrack; Maaike Schoorel's atmospheric paintings; Matthew Darbyshire's exploration into taste and display in An Exhibition for Modern Living (2010) and Duncan Campbell's examination of the public persona Britain's youngest ever woman MP, Bernadette Devlin in Bernadette (2008).
Works being presented specifically at the Hayward Gallery include a specially commissioned bell by Steven Claydon, cast at the Whitechapel Bell Foundry which will chime once an hour; a new outdoor installation by Keith Wilson, new film The Empty Plan by Anja Kirschner & David Panos; a new chapter in Charles Avery's epic island-fiction in the shape of large scale drawing Untitled (Place de la Revolution); a new episode from Nathaniel Mellors' Monty Python-meets-Pasolini 'soap opera' Ourhouse and a large canvas body of a teddy bear by Brian Griffiths – the head of which was shown at Nottingham.
Information and tickets: 0844 847 9910 www.britishartshow.co.uk
Categories
Tags