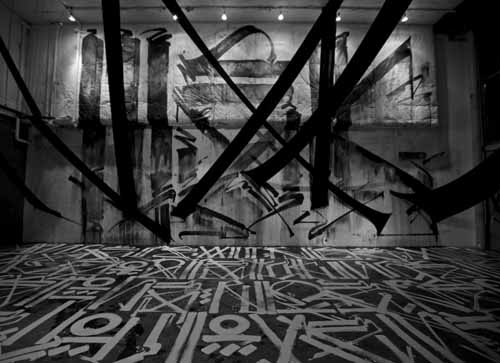 February 10, 2011 – February 21, 2011
Andy Valmorbida and Vladimir Restoin Roitfeld are proud to present "The Hallelujah World Tour", the first New York solo presentation of RETNA, opening at 560 Washington Street, New York City on February 11, 2011. The New York launch exhibition is organized in collaboration with curator PM Tenore and is the first of three global sponsored by Bombardier Business Aircraft and VistaJet.
Since making his debut in the mid-1990s, RETNA has participated in over 30 international exhibitions with countless works in the public realm. Yielding an unmistakable aesthetic that integrates appropriated contemporary photography, traditional painting and a unique glyphic style, he has emerged as one of the most prolific graffiti artists in the contemporary art world.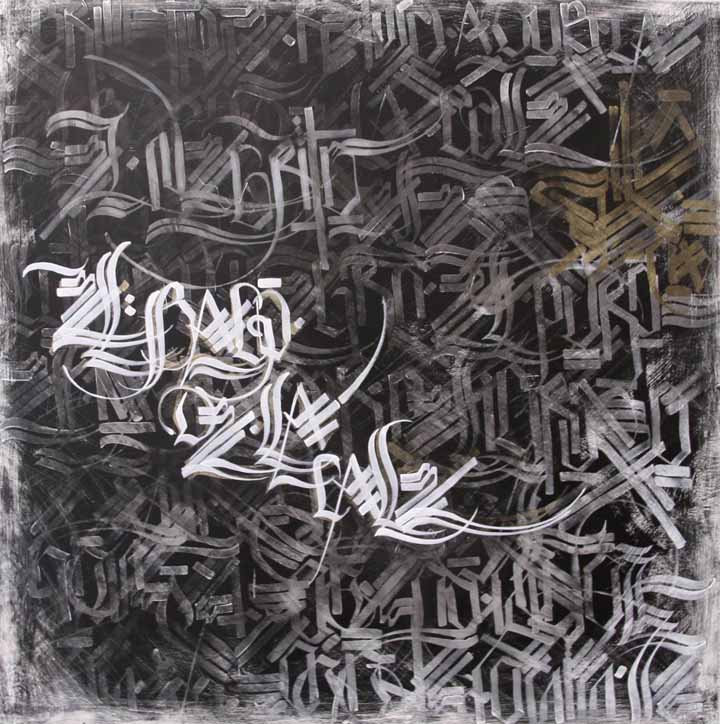 An integral fixture in the Los Angeles art scene since an early age, the transcendent nature of RETNA's work has allowed him to seamlessly transverse from the unregulated urban landscape to institutions and galleries across the globe. Merging couture with street culture, the spiritual with the sensual, and fluidity with grit, his paintings provide an exceptional lense through which we view contemporary culture.
Drawing from a wide array of influences including the Old English style of gang graffiti writings, Asian calligraphy, Incan & Egyptian hieroglyphics, Hebrew and Arabic, RETNA's vision manifests as an international visual language all his own. This global perspective pervades the work through its literary content, as pieces yield an abstract anthropological poetry: writings that initiate dialogue between the cities in which they exist and the world community at large. The Hallelujah World Tour will feature a selection of work incorporating this language into a diverse range of mediums, including painting, sculpture, and photography.
This New York presentation will be the first of three international exhibitions of RETNA's presented by Valmorbida & Roitfeld in collaboration with Bombardier Business Aircraft and VistaJet. As part of the project, RETNA will bring his artistic vocabulary over 50,000 feet above ground. The artist will create a unique work on the tail of one of VistaJet's Global Express* XRS* aircraft. The impressive Global Express XRS business jet combines superior performance, in-flight productivity and cabin comfort. It can link key destinations such as New York-Moscow or London-Mumbai non-stop**.This project is scheduled for completion in April 2011.

Recent projects have included a solo exhibition, "Silver Lining", during Art Basel Miami Beach at Primary Projects (2010); Primary Flight, the World's Largest Street Level Mural Installation (2010); a solo exhibition, "Desaturated", at New Image Art Gallery in Los Angeles (2010); a mural for the Margulies Collection at the Warehouse in Miami, FL (2009); and "Vagos y Reinas" at Robert Berman Gallery (2009). In April 2011, RETNA will be featured in the "Art in the Streets" exhibition at MOCA in Los Angeles.
RETNA: The Hallelujah World Tour Address: 560 Washington Street
www.digitalretna.com/
Categories
Tags